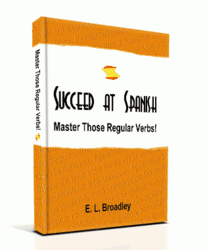 The book & audios are too much of a great deal and the website is loaded with great, informative content. Thank you.
(PRWEB) November 29, 2012
Emma Broadley, founder of Succeed-at-Spanish.com, assures readers that anyone can learn a new language, the same way they learned to speak their native language as children. Her recently released audio ebook, 'Succeed at Spanish: Master Those Regular Verbs', promotes a language-learning method that she says works for everyone: learning through listening.
The audio ebook features hundreds of everyday Spanish sentences, accompanied by audio in no less than four different speeds. Slow, well-enunciated audio caters for beginners; full-speed audio for already-fluent speakers; and two intermediate speeds for everyone in between. Not only that, the 'Listen & Practice' option gives the reader time to repeat what they've heard, while the 'Listen & Recognize' option allows them to focus on overall comprehension.
"By listening to a language, we subconsciously learn to recognize what sounds right without having to refer to any grammar rules or verb tables," explains Broadley.
"It wasn't until learning my fifth language that I realized how much difference listening really made. I wish I'd appreciated it sooner," she shares. "So I decided to create the sort of language-learning resource that I would want for myself if I was starting from scratch."
'Succeed at Spanish: Master Those Regular Verbs' audio ebook places added emphasis on accurate pronunciation and repeated listening, in order to quickly become comfortable communicating in Spanish.
Based around ten main Spanish verb tenses, the idea is that by listening and repeating everyday Spanish, one will subconsciously learn to recognize which verb tense to use without ever needing to look at a verb table. With the help of this one book, the reader will gradually build a wealth of useful, everyday Spanish words and phrases which they will intuitively begin to mix-and-match as they try out their newly acquired linguistics skills.