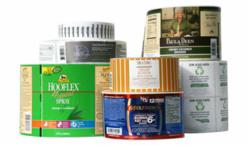 Longwood, FL (PRWEB) November 28, 2012
The design of labels on a consumer product is a critical element of the labeling process. There are only a few seconds in which a product can capture the buyer's attention. That is why the label on the product needs to be colorful and attractive to garner such attention. With over 25 years of custom labeling experience, we have come up with some key points to help consumers when designing custom labels. By following these key points, it can make a difference on whether someone purchases your product or not.
As a general rule, there are a couple of key points to consider when designing custom labels for your consumer products. Various shapes and sizes of the product container will impact the design of your labels.
1. Make your text easy to read - This sounds like a no-brainer however it is usually one of the most overlooked aspects when designing a label. Try to avoid any elaborate, busy, hand drawn or custom fonts that causes a strain on the consumer's eyes.
2. What you see is not always what you get - When designing a custom label, the colors that you see on your computer monitor are in RGB and printouts from your desktop printer will not always match the colors from our calibrated printers or the final product. Since most label printing companies print in CMYK, the colors can be slightly different for those working in RGB mode. To ensure that the color on your screen matches the final product, it is recommended to design the label in CYMK.
3. Consider the bleed - A bleed means your label artwork extends beyond the actual finished dimensions of your label. When your label artwork is set up this way, there will be no white borders around your label art when it is printed. This is an important consideration as you decide on whether or not to enclose your design within a border on your final product.
About Consolidated Label:
Founded in 1981, Consolidated Label is one of the country's leading suppliers of custom labels and flexible packaging. The company produces custom labels and packaging for thousands of customers across a wide variety of industries including food, beverage, household products, medical, pharmaceutical, and promotional products.
For more information, visit http://www.consolidatedlabel.com.