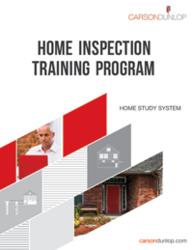 The 2012 real estate market in California has improved by over 5% and is projected to continue to increase in 2013. This equates to a wealth of opportunity for Home Inspectors," explained Brian Bell, Vice President of Sales and Marketing
DesPlaines, IL (PRWEB) November 28, 2012
Carson Dunlop is helping Home Inspectors succeed in California. The Carson Dunlop Home Inspection training program helps educate students with dynamic content available online. The continued development of the Home Inspection industry, combined with the improvements in the US housing market, translates to new opportunities in the home inspection field. With complimentary tools, like Horizon Report Writing software, the Home Reference Book and the Illustrated Home, Carson Dunlop supports Home Inspectors in California.
"According to the California Association of Realtors (C.A.R), the 2012 real estate market in California has improved by over 5% and is projected to continue to increase in 2013. This equates to a wealth of opportunity for Home Inspectors," explained Brian Bell, Vice President of Sales and Marketing at Carson Dunlop. "Home Inspection is a valuable and rewarding career, and the tools we provide help ensure success in this great profession."
Home Inspectors help clients who are preparing to make one of the biggest financial decisions of their lives. With the tools available through Carson Dunlop, Home Inspectors in California are able to provide their clients with the knowledge, resources and confidence to make good decisions in regards to their properties.
To learn more about the Carson Dunlop Home Inspection training program, please visit http://info.carsondunlop.com/home-inspection-training-california
About Carson Dunlop
Carson, Dunlop & Associates Ltd. has been a leading Consulting Engineering Firm devoted to building inspection since 1978. They are one of the largest independent Home Inspection companies in North America that leverages their extensive technical knowledge across six integrated business lines – Home Inspection, Commercial Inspection, Report Writing, Energy Audits, Home Inspector Training and Continuing Education.
About Carson Dunlop Home Inspection Training
Carson Dunlop launched the Home Inspection Training division in 1990 to provide high quality education to new professionals entering the Home Inspection industry. The Home Inspection program was developed with education design consultants, and distance education specialists from Memorial University to create a uniquely comprehensive Home Inspection program. The courses can be taken in a self-study format from Carson Dunlop and are also offered in classroom and distance education formats by more than 20 colleges and universities. To learn more about this Home Inspection program, please visit http://www.carsondunlop.com/us/home-inspection-training/