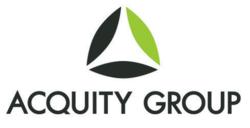 Chicago, IL (PRWEB) November 27, 2012
Acquity Group (NYSE MKT: AQ), a leading global Brand eCommerce™ and digital marketing company, announced today it has partnered with Google to deliver the Google Commerce Search (GCS) product to major retailers and business-to-business brands all over the world. The relationship will enable retailers to provide a richer, more engaging consumer experience online, in-store, and on mobile devices.
As a digital services partner to many of the world's largest brands, Acquity Group offers a portfolio of digital solutions known as Brand eCommerce™, a unique blend of cutting-edge technology and creative design that drives customer loyalty engagement and sales for business-to-business and consumer brands. Acquity Group will partner closely with Google as it rolls GCS out on the market, helping brands implement, optimize and manage the powerful solution to increase competitiveness and meet the needs of today's multi-faceted consumer.
"For more than a decade, Acquity Group has helped companies surpass their business goals by delivering effective technology solutions and customer-centric digital experiences," said Jay Dettling, Executive Vice President of National Services at Acquity Group. "We are excited to enhance our relationship with Google and help our clients understand how GCS can support and expand their brand across channels."
Google's interactive and intelligent application makes on-site search considerably more informative, displaying in-store inventory levels in real-time and improving product-specific search capabilities. Its features include Search As You Type, customized rankings, product recommendations, filtering capabilities, automatic spellcheck, promotions, attribute boosting, stemming dictionary and advanced synonyms, among others.
GCS can be implemented directly onto a retailer's site or layered on top to augment existing on-site search solutions. Its living algorithm analyzes billions of historic queries, leveraging data to keep customers on-site longer, facilitate conversions, increase average order size and promote repeat visitors.
Current and future Acquity Group clients will have the opportunity to incorporate GCS as a component of their overarching eCommerce strategy, leveraging Acquity Group's award-winning digital expertise and a robust on-site search solution to offer an unmatched consumer experience.
"As a technology pioneer and long-time staple of virtually every digital marketing conversation, we expect Google's new commerce product will have an immediate and lasting impact on both search and retail," added Dettling.
About Acquity Group:
Acquity Group is a leading global Brand eCommerce™ and digital marketing company, creating award-winning digital experiences for global brands. Our multi-disciplinary approach brings together strategy, design, and technology to create brand-unique experiences that build firm customer relationships. Acquity Group works with leading brands like Adobe, AT&T, General Motors, Motorola, and Saks Fifth Avenue through offices in North America and Asia.