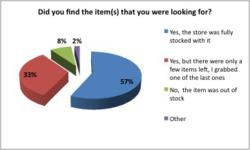 Data collection via mobile device enables a whole suite of new shopper insight applications that can help brands and retailers refine their execution at a store, region and chain level.
Port Washington, N.Y. (PRWEB) November 27, 2012
Paradigm Sample, a leading innovator in mobile market research and data collection, measured the in-store activity of more than 600 shoppers, as they shopped during the busy Thanksgiving weekend. Shoppers were surveyed about where they were shopping, how long they waited in line, what product categories they shopped and store conditions, and the results were updated live on Paradigm Sample's "Black Friday and Thanksgiving Shopper Insights Reporting Portal." Consumers who participated in the survey using their mobile phones revealed that most of them waited in line for fewer than two hours.
Respondents reported that while stores were crowded, and check-out lines were long, their shopping experiences were positive, because the items they were looking for were readily available and there was plenty of in-store assistance. Electronics departments of major retailers were the busiest: 36 percent of respondents shopped for personal and home electronics. Electronics departments were also cited by 56 percent as being the most crowded. According to Sima Vasa, CEO of Paradigm Sample, "data collection via mobile device enables a whole suite of new shopper insight applications that can help brands and retailers refine their execution at a store, region and chain level."
Paradigm Sample's mobile survey revealed that 39 percent of their panelists shopped at Walmart, while 20 percent shopped at Target. Shoppers provided mobile-phone pictures of long lines outside both retailers, and big crowds inside; however, they also consistently gave positive feedback about the preparedness of the two big-box stores. Those shopping at Walmart and Target stores said that there were plenty of "door buster" deals on hand, and they were made readily available through extra sales help, lower-priced items in special bins, and displays by the cash registers.
Paradigm Sample's mobile research methodology also requested that the survey panel provide pictures and qualitative descriptions of their shopping experience via their mobile phones. "A picture is worth a thousand words," Vasa said. "The digital pictures that we captured throughout the busiest shopping weekend about in store experiences were very positive and encouraging for both consumers and retailers. Even though the pictures revealed long lines, crowded conditions, and some disorganization within the stores, most consumers reported that's what they expected, and some stated that the shopping conditions were even better than they expected them to be."
Based on the results of Paradigm Sample's survey, 57 percent of early shopping consumers felt stores opening earlier this year was "good news," since it provided them with more time to shop. Longer store hours also seemed to lead to a more fluid shopping experience on Friday, especially late in the morning and early afternoon, as shoppers encountered crowds that were not large as they expected or as they had previously experienced during the day on Black Friday. Many took pictures of clean, neat malls where the crowds appeared to be orderly.
About Paradigm Sample
Since 2009 Paradigm Sample's proven mobile market research has given leading companies a solid foundation to support all types of business and marketing objectives. The company's extensive experience and knowledge in building mobile-based research solutions provides information and insight that can't be acquired from traditional market-research methods. Paradigm Sample also regularly partners with other market-research companies who need the company's mobile-research platform, MobilePulse, to give their own clients compelling and valuable consumer information. This information spans all age groups, ethnicities, and regional demographics -- including the lucrative, and notoriously hard-to-reach, millennial generation. For more information, visit http://paradigmsample.com.
###