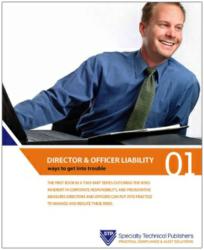 "It makes interesting reading. Recent legal cases, cited in the eBook, show that individual directors and officers can be blamed for corporate blunders." Deon Kopke, CEO and President of Specialty Technical Publishers
North Vancouver, British Columbia (PRWEB) November 29, 2012
Specialty Technical Publishers, premier North American publisher of audit, compliance and risk solutions, today announced the release of a free eBook for directors and officers – the first in a two-part series.
Recent scandals and economic uncertainty have increased the emphasis on transparency in corporate dealings. Individual directors and officers can be sued for corporate failings and are at significant risk of personal liability. They have a duty to make sure they fully understand their responsibilities in order to manage and reduce this risk.
"It makes interesting reading. Recent legal cases, cited in the eBook, show that individual directors and officers can be blamed for corporate blunders. The good news is that this risk can be reduced and this practical guide clearly sets out ways to do that." Deon Kopke, CEO and President of Specialty Technical Publishers (STP).
Written by compliance expert and attorney, Jon Elliott, Ways to Get Into Trouble (Volume I) is a detailed 28-page eBook which plainly outlines the risks inherent in corporate responsibility, and the preventative measures directors and officers can take to improve corporate governance, and reduce personal liability.
The eBook includes information on:

Fiduciary Duties
Corporate Lawbreaking
The Responsible Corporate Officer Doctrine
The eBook also includes six easy-to-use checklists that encourage efficient audit and compliance procedures in any size organization.
Ways to Get Into Trouble – Volume I – is the first part of a two-part series which comprehensively describes the pitfalls associated with directors' and officers' corporate responsibilities, and the measures that can be taken to manage and avoid risk.
Ways to Keep Out of Trouble — Volume II - which will be released in early 2013, will focus in detail on the preventative measures and procedures directors and officers can put in place to reduce the fallout from corporate missteps.
For more information or to download the publication click here
Contact: Rondi Shouse, Director of Marketing
Specialty Technical Publishers is one of North America's premier publishers of technical resource guides in the areas of environmental, health and safety, transportation, accounting, business practices, standards and law.