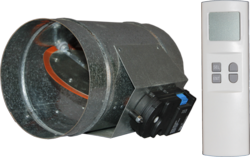 Wooster, OH (PRWEB) November 28, 2012
ALAN Manufacturing, a national provider of customized damper and duct products, says their new Wireless Zone Control Dampers enable Heating, Ventilation, and Air Conditioning (HVAC) professionals to install quality, affordable zoning for their customers. This wireless system is available in a retrofit configuration or with the usual full-tube style in the round, or with a frame style in the rectangular. With this product, HVAC professionals can install zoning for their customers without having to run wires to the dampers to operate them. Dampers will need 24 volts to be wired to the motor while the control of the movement is done wirelessly like a TV tuner. Pictured is a zone control damper with a wireless power-open/power-close motor and remote control. The damper system is beneficial for controlling the airflow in rooms that are seldom used, or in open areas that have multiple diffusers, which can be open/closed separately. The remote is capable of controlling up to 32 different dampers and can be digitally set to control the actuator/damper from 0% (fully closed) to 100% (fully open) in 5% increments.
Please visit the ALAN Manufacturing website for more information on the company's customized damper and duct products and services.
Contact Customer Service toll-free at 1-800-435-2526