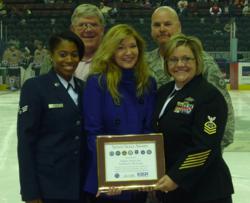 SOUTHAVEN, Miss. (PRWEB) November 27, 2012
Not only do the RiverKings look out for their players, but they look out for members of their armed forces as well.
On November 16, 2012, Robin Costa and Maddox Hockey received the Patriotic Employer and Seven Seals Awards from the Employer Support of the Guard and Reserve (ESGR). The awards recognize employers and organizations that make a special effort to go above and beyond to provide support for members of the military. The organization received its nomination for the awards from RiverKings' Community Development Coordinator Linda Rixie, who also serves as Chief Petty Officer in the U.S. Navy Reserves.
Dan Callahan, member of the ESGR, believes that without organizations like the RiverKings, the Guard and Reserves would not be able to function like they do today.
"The leading reason men and women do not join the Guard or Reserve, and those who leave it early, is their concern about their civilian job, not their families," said Callahan. "Without the support of employers, large or small, civilian or government, the Guard and Reserves as a military resource would not exist. Patriotic Employers, like Robin Costa and the RiverKings, are key players in our nation's defense."
The Patriotic Employer Award and Seven Seals awards recognize supervisors who go above and beyond to aid Citizen Warriors in the workplace. By providing flexible work schedules, granting leaves of absence and extra time off, recipients of the award help keep our military strong and help strengthen the bond between employers and members of the armed forces.
Join us this weekend as the RiverKings take on the Mississippi Surge Friday night and the Columbus Cottonmouths Saturday at 7:05 p.m. Tickets are on sale now through ticketmaster.com and the Landers Center Box Office. Don't forget to check out our facebook (facebook.com/mississippiriverkings) and our twitter (twitter.com/riverkings) for all things RiverKings.
The Mississippi RiverKings are supported by their community partners, season ticket holders, fans, and by program-related investments of the Maddox Foundation, an independent private foundation based in Hernando, Miss. To find out more about the RiverKings, call 662.342.1755 or visit http://www.riverkings.com.