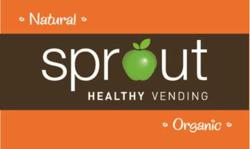 Every choice we make has a cumulative effect on our health and well-being. Now at long last, we can make a life promoting choice, even from a vending machine!" Amy Medows
Irvine, Calif. (PRWEB) November 29, 2012
"Health and well-being is quickly becoming a major focus of our population, so I believe our schools and local businesses will be eager to offer their patrons healthy vending," expresses Medows. "Numerous kids and adults will now have nutritious snacks at their fingertips; plus, even those who thought 'healthy' foods might not taste good will be in for a pleasant surprise!"
As a Registered Dietician and mother, Amy understands the importance of transforming unhealthy snack options into healthy ones. "I am passionate about every single person having simple access to healthier food choices. Sprout takes the vending concept to an exciting new level, where you can choose delicious snacks with real nutrients, minus the chemicals and artificial ingredients."
Sprout Healthy Vending is considered to be a "Social Wellness" business that benefits communities by providing the largest selection of name brand, natural and organic products-including healthy drinks, snacks, yogurts and smoothies. Menu plans are developed by licensed dieticians to ensure the products in the machines meet even the strictest National, State, and Local nutritional guidelines. Sprout Healthy Vending is a beneficial business opportunity for the health conscious entrepreneur.
Amy Medows is just that: health conscious and determined to promote a change in the way people snack. "Every choice we make has a cumulative effect on our health and well-being. Now at long last, we can make a life promoting choice, even from a vending machine!"
Medows plans to direct her focus towards students at schools and universities as her target customers. "Their bodies are still developing, plus they generally don't have a lot of freedom of choice, so making nourishing foods available to them is a high priority."
Sprout Healthy Vending Co-Founder Chris Wyland acknowledges Medows as a valuable addition to the Sprout Family. "In order to achieve our goals as both a business and a movement in the health food industry, we need our operators to be equally as motivated as we are. Amy Medows is not only dedicated to improving national health conditions, but she also has the knowledge necessary to truly make an impact. With a background in nutrition, her credibility will contribute to the assured prosperity of her healthy vending business."
Look out for Sprout Vending Machines throughout Missouri, Medows believes they are hard to miss. "Decorated with graphics of oranges and grass, the vibrant colors on the outside are a reminder of the vibrant choices on the inside."
About Sprout Healthy Vending
Sprout Healthy Vending provides state-of-the-art vending technology, thousands of healthy and organic products and turnkey customer solutions for regional operators. Currently, Sprout Healthy Vending has over 70 operators in 40 markets in the U.S. with 1,000 individual locations projected by the end of 2012. To learn more about the company, locations and products please visit http://www.sprouthealthyvending.com or call (800) 450-7648.