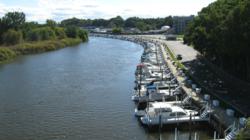 Pier 33 is involved in every possible area at the dealer and marina level – so we'll gain great benefit from our memberships in both the MRAA and NMMA
St. Joseph, MI (PRWEB) November 27, 2012
Pier 33 Marina of St. Joseph, Michigan is now a member of the boating industry's two leading trade organizations.
Pier 33 has been accepted for membership in both the Marine Retailers Association of the Americas and the National Marina Manufacturers Association.
Founded in 1972, the Marine Retailers Association of the Americas is an association composed of boat dealers, marine parts and accessories vendors and related service providers. The MRAA is focused on its role as the unifying voice of marine retailers and provides a wide array of member benefit programs including management and staff training opportunities, legislative representation, marketing support, certification support, numerous discounted services to members from affiliated providers and a solid network of industry contacts and resources.
Pier 33's entry into the National Marine Manufacturers Association as an Associate Member will provide Pier 33 with access to vital programs such as key industry statistics, legislative insights, training and staff recruitment opportunities, discounted marketing opportunities and much more. Although founded upon the needs of boat and accessory manufacturers, many of the NMMA's programs focus on needs at the dealer level, by promoting recreational boating through consumer outreach, continuously improving customer satisfaction and experiences through CSI (Consumer Satisfaction Index) and Marine Five Star Dealer Certification programs and advocating at state and federal levels to protect the interests of the marine industry and the users of its products.
"We're working to align Pier 33 with the very best resources available in the boating business" says Pier 33 General Manager Tighe Curran "so that we can use every available tool to improve the boating experience for our boaters. The combination of programs available through these two powerful organizations will help us reach our goals".
As a full-service marina, Pier 33 provides summer dockage and on-shore services, comprehensive boat repair and maintenance services, boat parts and accessories sales, yacht brokerage services, pre-owned boat sales and Pier 33 is a dealer for new boats from Chaparral, Pursuit and Scout. "Pier 33 is involved in every possible area at the dealer and marina level – so we'll gain great benefit from our memberships in both the MRAA and NMMA" continued Curran.
As part of its support of the NMMA and MRAA, Pier 33 staff participated in two recent trade conferences, the International Boatbuilders Exposition & Conference in Lousivlle, KY and the Marine Dealer Conference & Expo in Orlando, FL.
Pier 33 is also a member of the Michigan Boating Industry Association as well as the American Boat and Yacht Council, with additional training and dealership support available through those two groups. Pier 33 is currently preparing to participate in the MBIA's Recreational Boating Educational Conference including the MRAA's Marine Retailer's University, December 5 & 6. In addition, Pier 33 is sponsoring an upcoming professional training opportunity through the ABYC (Systems Certification) to be held at Pier 33 February 26 through March 1, 2013.