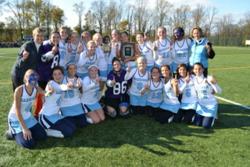 It's evident that the athletes are having fun while reaching to new heights and, in the process, obtaining national recognition and success
Owings Mills, MD (PRWEB) November 29, 2012
Baltimore is no stranger to remarkable achievement in athletics. From Cal Ripken Jr.'s surpassing of Lou Gehrig's consecutive game streak and Michael Phelps' iconic status as the most-decorated Olympian in the history of the Games, to the Baltimore Colts' (volunteer) Marching Band continuing to perform when the city was between professional teams, Baltimore proves its status as one of nation's greatest sports towns.
On November 4, 2012, another Baltimore sports team achieved a record worthy of this tradition. The Garrison Forest School (GFS) Grizzly varsity field hockey team won its third straight Interscholastic Athletic Association of Maryland (IAAM) "A" Conference Championship title—its fifth title in seven years. Consider the following:
Since 2006, the GFS team has made it to the championship every year in a conference considered among the most competitive in the nation for girls' athletics
This year's team posted a perfect, 21-0 season AND championship game, beating Bryn Mawr School in the championship game 2-0.
The 2012 Grizzly squad kept its opponents to scoring only five goals; in fact, the championship game vs. Bryn Mawr School represented the 16th straight shut-out for the GFS team.
Over the past three years, the champion Grizzlies allowed only 31 goals, scoring 209 goals from 2010-2012 and boasting 36 shut-outs in three years.
Since 2006, Garrison Forest field hockey's record is 125-11-7, a remarkable achievement in high school sports. To sustain this level of play as team members graduate, year after year, is unheard of.
Countless players have been named to All-Star, All- Metro, All-State and Academic All-American teams. This year, an unprecedented five players were named IAAM All-Stars. Ten seniors have been nominated to the National Field Hockey Coaches Association, National Academic Squad for eligible seniors with a cumulative GPA of 3.5 or higher.
Co-Coach Traci Davis, who also serves as GFS Athletic Director and is a member (2011) of the National Lacrosse Hall of Fame, was named the 2007 Baltimore Sun "Coach of the Year." In 2010, she shared the honor with Leigh Hall, a 1981 graduate of Garrison Forest.
This type of sustained achievement is rare at the high school level for any sport, notes Sue Thompson, Executive Director of the IAAM, which represents 31 independent and parochial schools in the metro Baltimore area. "Garrison Forest athletic programs consistently embody the mission of the IAAM," she says. "Specific to field hockey, the accomplishments of the Grizzlies over the last several years, not just this year, is a true testament to a program that has found its rhythm in player development through longstanding, experienced coaching and the development of a total student-athlete experience. As an observer, it's evident that the athletes are having fun while reaching to new heights and, in the process, obtaining national recognition and success."
This fall, the Field Hockey team joins its fellow Garrison Forest teams and student- athletes in achieving exceptional levels of interscholastic play. Hannah Belsinger '15, a boarding student from Florida, won the 2012 IAAM-A Tennis Singles Championship, and the Cross Country team finished its first-ever perfect season and won its first IAAM-C Cross Country Championship. For the past five years, Garrison Forest's Indoor Soccer team has won its IAAM conference. Garrison Forest fields 49 teams in 16 sports, including dance and nationally ranked riding and polo programs.
Founded in 1910, Garrison Forest empowers students to realize their full potential and to live lives of purpose. Garrison Forest School is an independent, all-girls' day school, Kindergarten through 12th Grade, with a regional, national and international residential program for girls beginning in 8th Grade, and a coed preschool for Twos – Pre-Kindergarten. Located in Owings Mills, in 2010, Garrison Forest celebrated its centennial and became the first independent school in Maryland to receive the prestigious Confucius Classroom dedication by China's Hanban Institute.