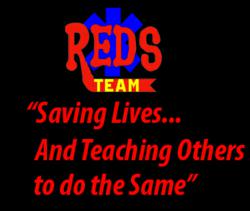 Brentwood, TN (PRWEB) November 27, 2012
As part of their 100 AED Giveaways in 2012, AED.com created a Facebook promotion to find the next recipient for their AED donation. A random drawing of AED.com's 20,000 Facebook fans at the time (AED.com's Facebook page now has over 31,000 fans) picked Pam Pease as the winner. Pam Pease teaches CPR/AED and First Aid through her local community college and knows the value of owning an AED. She entered the Facebook drawing knowing if she won, that she would present the AED to the R.E.D.S. Team.
The R.E.D.S. Team, which stands for Rescue Extrication Delivery Specialists, is an all-volunteer, non-profit Technical Rescue Team in Garner, North Carolina that provides a wide variety of rescue response and specialized training. Instruction areas include: Missing Persons Search, Swift Water Rescue, Dive Rescue and Recovery, and Specialized Extraction. The team also provides specialized professional training to fire departments, rescue squads, law enforcement agencies, military, industrial and manufacturing companies in the surrounding areas.
The R.E.D.S. Team was an excellent selection for the AED because of the many high-activity rescue situations they encounter on a normal basis. "We were so happy to be able to equip the R.E.D.S. Team with a Zoll AED Plus and Pelican Case that will withstand the harsh conditions they face daily. We thank them for all of their hard work and hope that this added protection will aid in their rescue efforts," commented Blaire Czarniecki, a member of the AED.com Donation Team. The R.E.D.S Team is a perfect example of an organization that is loyal to their community and is committed to making it a safer place. We applaud the work they do and are honored to donate an AED to this organization.
For more information regarding the R.E.D.S. Team or ways to become involved you can click here: http://redsteam.com/team/
To like our page on Facebook please click here: https://www.facebook.com/AEDdotcom
AED.com is headquartered in Brentwood, TN. AED.com's parent company, DXE Medical Inc. was founded in 1999 and provides services to customers in all 50 U.S. states and 35 countries worldwide. For more information, please visit: http://www.aed.com/