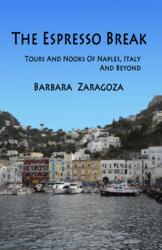 The tours are meant to be self-guided and allow for less time following the stick of a guide and more time imagining and immersing yourself in your own picture of what's important about these stones and relics.
Chula Vista, CA (PRWEB) November 29, 2012
The new mayor Luigi de Magistris has been giving Naples, Italy a facelift that includes reducing traffic congestion. This past week he inaugurated the Naples Bike Path, which is expected to be the longest in southern Italy.
Together with the European Commission, Naples also participated in European Mobility Week last September and the city council continues to encourage citizens to try alternatives to car use.
For safe and independent green travel through the city and beyond, expats and tourists can purchase Barbara Zaragoza's travel guide, The Espresso Break: Tours and Nooks of Naples, Italy and Beyond. Written for the independent green traveler who enjoys history, food and wandering through the sights of one of the oldest cities in the western world, the book provides many walking tours, including a three day tour of the odious women of Naples, a tour of Caravaggio's famous works and, for the Christmas season, a tour of the nativity scenes throughout the city.
Self-guided walking tours continue at Pompeii, Herculaneum and many other ancient ruins. Zaragoza even includes a one day tour of Neapolitan caffè, in keeping with the book's title.
New York Magazine mentioned Zaragoza's blog, The Espresso Break, as the website for finding hidden gems and Laura Thayer at Ciao Amalfi said, "Follow Zaragoza on a tour of Naples' castles, the Phlegraean Fields where few tourists wander, ancient Greek and Roman ruins in and around Naples, urban spelunking in the fascinating underground city below Naples and to a great selection of nooks you won't want to miss during your travels in Naples."
About
Barbara Zaragoza spent three years blogging about Naples, Italy and writing about destinations throughout Europe. She enjoys exploring local histories, myth, and travel to lesser known places. For more about the author, the book and Naples travel, go to Naples (Napoli) Travel Information Guide.