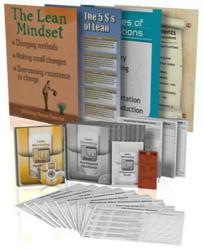 "The Lean MFG Workshop Solution Package had everything we needed to conduct a successful workshop. We have noticed great improvements and cost savings in the way we run each department."
Lake Oswego, OR (PRWEB) November 29, 2012
An organization that is lean understands customer value and focuses its key processes to continuously increase it. Providing perfect value to the customer through a perfect value creation process that has zero waste is the ultimate goal for any business. Maximizing customer value while minimizing waste is the core idea that is taught through the Lean MFG Workshop Solution Package and is now being offered through leanmanufacturingsupplies.com.
The Lean Manufacturing Workshop Package is considered one of the most critical tools to generate rapid sustainable lean improvement. The hands-on experience will engage business teams with proven techniques for creating a dramatic improvement, streamlining manufacturing and business processes. The package comes complete with a facilitator guide that will teach the leader of the event the proper tools to provide a successful workshop. The package also includes everything that is needed to guide the team through all the steps of lean to generate immediate improvement and cost savings. The ultimate goal experience a business will receive is radical reductions in process cycle times, increased throughput, elimination of waste and bottlenecks, and improved morale and safety.
Lean for production and services is not only suited for manufacturing plants but also applies in every business and every process. It is not a cost reduction program or tactic, but a way of thinking and acting for an entire organization. Healthcare and governments are using lean principles as the way they think and do as their own system. Lean should not be perceived as a program or short term cost reduction program, but lean is the way the company operates. A business owner commented, "The Lean MFG Workshop Solution Package had everything we needed to conduct a successful workshop. We have noticed great improvements and cost savings in the way we run each department."
For more information about Lean MFG Workshop Solution Package or other lean products, please visit http://www.leanmanufacturingsupplies.com/categories/Lean-Manufacturing-Tools/ or call toll-free (866)777-1360.