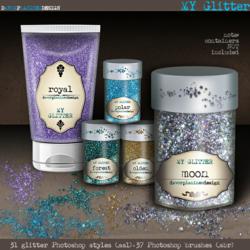 "I was just given the link to your site for the gorgeous hat freebie and decided to have a look around and WOW, you have an awesome store. Thank you for such lovelies I purchased."
Tacoma, WA (PRWEB) November 28, 2012
New at Jaguarwoman! A breakthrough design resource for Photoshop Users: A set of Photoshop tools for applying realistic digital glitter to your artworks. This week, Davor Planinec's "My Glitter" for Photoshop debuted at Jaguarwoman Designs. "My Glitter" is a set of 31 Photoshop glitter styles in .asl format + 37 high resolution Photoshop brushes in .abr format, made for 300dpi images. This digital glitter product combines the best scatter brushes in the same package as a huge collection of Photoshop glitter Styles, thereby answering the fervent wishes of an army of holiday glittermaniacs. Digital artists will play with these tools like kids in kindergarten AND produce superior glittering artworks which can be used for personal and commercial projects. Realist glitter in luscious hues which are sprayed on in a wide variety of sizes and forms to make textures, glitter spills, glitter heaps, digital nail and eye shadows, halos of sparkling effects for any object. This is not just another seamless glitter tile recolored and saved as a Photoshop Style. The combination of brush choices and glitter styles produces endless variations so that the artistic outcome will always be unique.
The man who created this breakthrough Photoshop digital design tool is Davor Planinec, a skilled digital artist from Croatia, who has been selling marvelous design resources online at Jaguarwoman Designs for many years. Davor specializes in high impact digital design resources and top notch digital design tools for Photoshop.
About Jaguarwoman Designs,
The "Jaguarwoman" in Jaguarwoman Designs is Dana Sitarzewski, a self-taught digital artist of 66 who found artistic ambition late in life, in the earliest days of the digital graphics revolution. Jaguarwoman Designs began in 1998 as a one-woman retail graphics store with a focus on high impact 2D design resources. It has since developed an international following with customers who need evocative high quality/high resolution images for both personal and commercial purposes. Starting with Jaguarwoman as the sole artist, it has expanded into a large graphics market which includes skilled artist-designers from all over the globe. In addition to a retail inventory of design resources many themes & formats, Jaguarwoman does commissioned digitally-painted art private individuals and commercial purposes. Among Jaguarwoman's areas of specialization are original floral designs and pet portraiture, as well as fantasy compositions. Jaguarwoman provides free tutorials for download and WIP instruction in digital painting in the Customer Support Forum (http://www.jaguarwoman.com/forum/ ). Jaguarwoman's business motto is: "We are dedicated to helping YOU stand out in the digital jungle".
Starting the 15th year of creative presence on the Internet, providing rare & powerful image resources for personal & commercial use . . .
Digitally Painted Floral & Animal Art, Abstract Backgrounds & Landscapes, Ornamental Alphabets, Decorative Borders & Ornaments, 3d Fantasy Characters, Digital Scrapbooking Kits & Design Resources For Personal Use & Commercial Use, 3d Texture Resources, Printables, Photoshop Styles & Brushes, Home Decor, Invitations, Greeting Cards, Custom Design & Illustration, Webdesign & Maintenance, Computer System Design & Upgrades . . . & much much more.