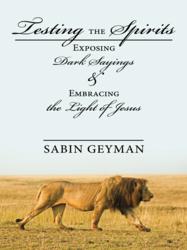 America's real national treasure is the Holy Bible
Seattle (PRWEB) November 29, 2012
Could the Washington Monument, the Statue of Liberty and the tiny owl hidden on the dollar bill actually be occult, anti-Christian stains on the American landscape?
International scholar Sabin Geyman points to a trail of occult symbols that threaten America's very survival—including witchy movies, Buddhist symbols hidden in plain sight from the Vatican to Hollywood and dark Egyptian obelisks from Washington D.C. to the county courthouse.
Pulling the masks off some of America's long-standing idols, Geyman calls for a return to the Bible in his new book, Testing the Spirits: Exposing Dark Sayings and Embracing the Light of Jesus.
In the book, Geyman calls for a new Protestant Reformation, addressing such hot-button topics as the collapse of evolution, the New Age movement, the rise of global governance and the correlation between decreased levels of Bible learning and America's social decline.
As a former journalist and defense analyst, Geyman concludes that unbridled social and religious diversity has been the undoing of the nation.
Having lived in Taiwan during the Tiananmen Massacre and after witnessing the expansion of Jihadism worldwide, Geyman says he now dreads the rise of godless autocrats in the U.S.
"America's real national treasure is the Holy Bible," the author says. "Replete with historical, scientific and Biblical sources, Testing the Spirits is an important American treatise."
For more information, visit seriouslion.wordpress.com
Testing the Spirits: Exposing Dark Sayings and Embracing the Light of Jesus
By Sabin Geyman
ISBN: 978-1-4497-4498-4
Approx. 344 pages
Paperback 6x9
Retail price: $24.95
E-book price: $9.99
Available at Amazon, Barnes & Noble, and WestBow Press
About the author
A graduate of UC Berkeley, Sabin Geyman is a writer, analyst, translator, and Chinese teacher whose work has straddled publishing and intelligence. He lives near Seattle.
# # #