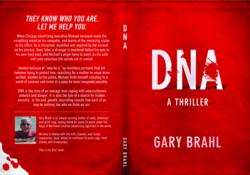 "If it is in your DNA to solve this riddle, then DNA is truly the book, and Brahl the writer for you." -J. Crawley

Dallas, Texas (PRWEB) November 28, 2012
Author Gary Brahl announced his new novel "DNA" is published and available for purchase at amazon.com, on lulu.com, and through ibooks. Visit dnathebook.com for more information.
Brahl's novel "DNA" is a thriller, and asks the questions: What if the birth mother you never knew existed had once been a legendary assassin for the Chicago Mob? What if after her death, killers came after you, convinced you knew the whereabouts of a fortune this black widow scammed from the infamous Al Capone? What would an innocent man-unaware that he carried the blood of monsters in his veins, do to deal with this unaccustomed violence? How would he survive a relentless assault, and protect those he loved?
"DNA" is set in Chicago past and present, it moves with non-stop action that examines questions about who we truly are, and how our genetic imprint determines how we might react in times of incredible stress.
What novelists, poets and professors are saying about "DNA":
"Mysterious genes, deadly gangsters and snappy dialogue keep the pages turning. DNA is a thrilling good time." -L. Herold
"Subtle and savvy dips into genealogical traits mixed with smash-mouth, well-targeted characterizations gives the reader a wonderfully hybrid lit/pop piece of fiction."
-G.D. Swaim, PhD
"Brahl has written a suspense novel that will engage your emotions even as it gets your heart racing." -H. Coulter
"If it is in your DNA to solve this riddle, then DNA is truly the book, and Brahl the writer for you." -J. Crawley
About Gary Brahl
Gary Brahl is an award-winning author of radio, television and print copy, having worked for more than 30 years with leading advertising agencies around the world.
He currently lives in Dallas with his wife, Carolyn, and his trusty dog, Jozie, where he continues to write copy, short stories and screenplays. "DNA" is his first novel.
Contact:
Gary Brahl
702.290.8781
gary(at)brahl(dot)com
http://dnathebook.com
# # #