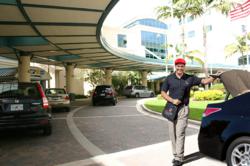 "We will continue to develop technology that enhances what is already an awesome experience," added Kielkucki.
Ft. Lauderdale, FL (PRWEB) November 28, 2012
RedCap (http://www.myredcap.com), the leader in the Driver as a Service(DaaS) category today announced the introduction of technology that is designed to enhance its personal driver service for Ft. Lauderdale Airport Parking, executive travel and or anytime someone needs a personal driver.
The "Intelligent Driver Matching System" (IDMS) not only dispatches drivers that a member has specifically asked for but, if not available, then one will be dispatched that is most like their preferred driver and likely meets the members very specific criteria.
"While each of our drivers has gone through an extensive vetting process and subsequent training program, many members have certain preferences," said David Kielkucki, RedCap chief operating officer (COO). "Our system attempts to send a member a personal driver they've requested but there are times when that driver is not available. With IMDS a driver will be dispatched based on extensive criteria gleaned from the member's confidential preferences, intelligence gathered during prior service requests, and the driver's in-depth profile."
According to Kielkucki that criteria includes basics such as male/female driver preference, driver's ability to drive manual transmission, driver's certification for the trip type, matching size of driver with vehicle, and a host of other rules that have been created based on member feedback.
The Company recently announced the release of both its mobile website, available for any mobile browser and complimentary native personal driver apps, available for Apple and Android users in the app store. RedCap's mobile release allows its members to reserve high quality, courteous personal drivers from their mobile device, track their driver's progress and location and manage all aspects of their RedCap account. Customers also use RedCap's website to perform the same activities, which delivers a convenient and cost-effective method for anyone to utilize a personal driver with their own vehicle.
"We will continue to develop technology that enhances what is already an awesome experience," added Kielkucki.
RedCap is easily defined through its slogan; "Everyone's Personal Driver." It is a membership-based, premium Driver as a Service model for people who value safety, convenience and privacy at an affordable price. Once a member, an individual has access to a large pool of drivers who have been vetted through a rigorous screening process and can drive the member in his or her own clean, comfortable and safe vehicle. It's a superior and more flexible alternative to a cab or an expensive Town Car.
The Company also recently announced it surpassed its one-millionth minute of service and has delivered more than 20,000 rides.
About RedCap
RedCap is the perfect solution to the dilemma of being with your vehicle when you can't, shouldn't or prefer not to drive. RedCap enhances the comfort, convenience and flexibility of its members by providing Personal Drivers to drive their car, both one way and roundtrip. By allowing RedCap members to put their vehicles on autopilot, RedCap offers unprecedented safety, convenience and privacy at an affordable price. RedCap Drivers are completely vetted through a rigorous screening process. For more information visit http://www.myredcap.com
###