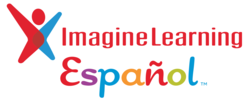 Provo, Utah (PRWEB) November 27, 2012
Educational software company Imagine Learning is sponsoring a free webinar focused on a new software solution for teaching Spanish language and literacy to Spanish-speaking students. The live presentation is part of Imagine Learning's Ahead of the Class webinar series, which draws on expert educators to provide information on current topics in education. The webinar will air on Thursday, November 29, 2012 at 2:00 p.m. MST.
Many Spanish-language software products are literal translations of the original English versions. Imagine Learning Español was developed specifically for young children learning to read Spanish. A balanced approach to literacy in Spanish is applied with correct modeling and sufficient practice. Letters and sounds are taught strategically. Vowels are taught first, followed by consonants, according to frequency. Syllabication is contextualized through authentic reading experiences, giving students a full picture of what reading is all about.
While standard Spanish is used for instruction and modeling, multiple accents are strategically used to expose students to the nuanced differences of the Spanish-speaking world. Highlighting the cultural and linguistic richness of Spanish-speaking countries provides students with a more meaningful educational experience. Attendees will get a preview of this new and innovative software program, which will be released to schools in January.
Space is limited, so educators who wish to attend are encouraged to register early at https://www3.gotomeeting.com/register/202534022
Title: A Better Foundation to Build On: Imagine Learning Español
Presenters: Rossana Camacho, Instructional Designer, Imagine Learning
Date: Thursday, November 29, 2012
Time: 2:00–3:00 p.m. MST
About the Presenter
Rossana Camacho holds a Master's degree and a graduate certificate in TESOL (Teaching English for Speakers of Other Languages) from Brigham Young University. Her research focused on computer-mediated instruction and the development of language skills. Rossana taught Spanish and EFL in her native Mexico, and designed curriculum and instructional materials for private and public academic institutions in the state of Campeche. Her experience also includes over eight years of experience as an ESL instructor in the U.S., and extensive work as a language program supervisor, teacher-trainer, and curriculum designer.
System Requirements
PC-based attendees: Windows® 7, Vista, XP or 2003 Server
Macintosh®-based attendees: Mac OS® X 10.4.11 (Tiger®) or newer
Register now at https://www3.gotomeeting.com/register/397765294
If you cannot participate in the live webinar, visit http://www.imaginelearning.com/webinars/#FindMoreFunding to watch archived presentation.
About Imagine Learning
Imagine Learning delivers award-winning language and literacy solutions to English language learners, struggling readers, students with disabilities and early learners throughout the U.S. and around the world. The company's flagship product is an educational software program that uses engaging, one-on-one instruction to meet students' individual learning needs. The program also provides real-time reports that give teachers comprehensive data on student progress. Visit imaginelearning.com to learn how to help your students make powerful progress.