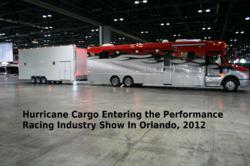 There was lots of negativity about our sales model, but now it looks like other manufacturers are taking notice.
Orlando, Florida (PRWEB) November 28, 2012
Hurricane Cargo, one of the nations' fastest growing manufacturer of enclosed trailers, is set to show several of its very popular trailers at the PRI Performance Racing Industry Expo (PRI), This weekend, November 29 and December 1 at the Orange County Convention Center. Many in the racing industry have been waiting to see the company's products up close.
At just three years old, Hurricane Cargo, enclosed racing trailer manufacturer and PRI Expo exhibitor, moved from the back of the pack to the lead industry growth position. This fledgling company beat the recession odds by selling more than $10 million their second year and is on track to reach $17 million this year, a growth rate of 340 percent.
"There was lots of negativity about our sales model, but now it looks like other manufacturers are taking notice. The key to our growth is in bypassing the traditional three-step marketing model, manufacturer to dealer to customer. We work directly for our customers," said Mike Gatewood, Hurricane Cargo's president. "A lot of people such as the economic development organizations in our South Georgia home area and the Georgia Labor Department have been watching as Hurricane Cargo grows in this economy. These entities are using Hurricane Cargo as a model to support other start-ups."
"Our customer list sounds like a 'Who'sWho' of governments, universities, rock bands and businesses that need exclusive enclosed cargo trailers to get their jobs done effectively. It includes filling an order of 100 trailers for the government of Puerto Rico, auto dealers including Ferrari of Tampa Bay, NHRA (National Hot Rod Association) racing teams, the University of Alabama, rock and country bands, celebrities and mobile medical facilities.
"Hurricane Cargo is excited to participate in the PRI Expo this year. It is first opportunity to showcase our products to our customers, potential customers and those skeptics . Ah, the skeptics, this is their chance to see what they are missing."
Hurricane Cargo, Fitzgerald, GA, prides itself that 95 percent of all the trailers they build are ordered directly by their customers. The customer speaks directly with a factory representative who places the order in the sales room overlooking the manufacturing floor. The highly trained and knowledgeable factory rep can help each customer examine every possible concept to make sure that their Hurricane Cargo trailer can handle every one of the customer's needs.
The factory rep who took the order, regularly walks the production line to make sure the customer's requests are built in. No other custom cargo trailer manufacturer offers this attention to detail.
Hurricane Cargo offers their customers top quality. As a standard, they use heavier gauge frames and sheeting than many of their competitors. They carefully compute the payload balance to make sure each trailer pulls like it isn't even there.
Customers should be prepared to experience the best customer service during the trailer building and owning experience. Hurricane Cargo's team is specially trained to speak directly to customer needs in terms they understand. They are happy to make sure everyone of their customers are completely pleased with their Hurricane Cargo custom trailer.
"We will have large enclosed gooseneck racing trailers and even a stacker trailer at the show," said Gatewood.
For more about the innovative company visit: http://www.hurricanecargo.com
# # #