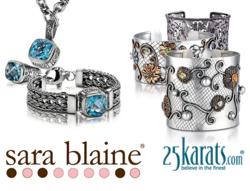 Believe in the finest...
(PRWEB) November 28, 2012
The holidays are just around the corner, which means it's time to find that special someone a memorable gift that will take her breath away. That's why 25karats.com is pleased to announce the official launch of the new Sara Blaine jewelry collection, featuring beautiful silver earrings, pendants, bracelets and rings.
Customers already know that 25karats.com features some of the finest diamond jewelry in Manhattan's world-famous Jewelry District. 25karats.com has taken their same commitment to high-quality jewelry to partner with Sara Blaine, a renowned jewelry designer who creates stunning sterling silver jewelry.
"The new Sara Blaine collection was launched just in time for the holiday season, which means customers won't be stuck for gift ideas for Hanukah, Christmas, and even New Year's Eve," says Matt Aksu, President of 25karats.com. "These gorgeous earrings, pendants, bracelets and rings make for an affordable holiday gift anyone will fall head over heels in love with."
Customers are already clamoring to place their orders for the Sara Blaine jewelry collection, which features sterling silver jewelry that incorporates colorful gemstones into the designs. It's the perfect gift choice for that special someone who loves trendy jewelry without spending an arm and a leg.
"The Sara Blaine collection is surprisingly affordable," Aksu points out. "We wanted to ensure that our customers could continue to enjoy fantastic 25karats.com jewelry while still having enough money left over in their holiday shopping budget.
"And the Sara Blaine collection is so high in quality that customers will be amazed at what their money can buy!" he adds.
The Sara Blaine collection features over 100 sterling silver pieces, including earrings, rings, pendants, and bracelets. In addition to unique sterling silver designs, customers can opt to pick their favorite styles with the gemstone color of their choice.
The Sara Blaine collection is backed by 25karats.com's customer satisfaction guarantee. This includes free shipping, a 30-day return guarantee, and attentive customer service. 25karats.com customers can even create a wishlist that they can send to loved ones to let them know what they'd like to see under the tree this year.
"The Sara Blaine collection is the perfect holiday present," Aksu says. "Customers can shop with confidence knowing that they'll receive gorgeous sterling silver jewelry worthy of the 25karats.com name."