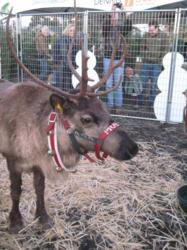 Portland, OR (PRWEB) November 27, 2012
Dennis' 7 Dees invites the whole family to celebrate the holiday season at one of their Garden Centers as they host Santa's reindeer for the third year in a row. These reindeer events have some holiday fun for everyone with the opportunity for children to enjoy festive make-n-take activities, cookies, hot cocoa & cider while enjoying the magical company of Santa and his Reindeer. Bring a camera for a festive photo opportunity with Santa and his reindeer! Dennis' 7 Dees offers one of the area's largest selections of local, freshly-cut Christmas trees, wreaths and holiday decorations to create your own winter wonderland at home.
The live reindeer will be at three of Dennis' 7 Dees locations during the month of December:

Lake Oswego Garden Center at 1090 McVey Ave. on December 7th, Santa will be there from 3-5pm
Eastside Garden Center at 6025 SE Powell Blvd. on December 8th, Santa will be there from 12-4pm
Cedar Hills Garden Center at 10455 SW Butner Rd. on December 9th, Santa will be there from 12-4pm
Visiting hours for seeing the reindeer for all dates and locations will be from 10AM to 5PM.
Bring in a new or a gently used clean blanket and receive 25% off any one item. All blankets will be donated to Human Solutions http://www.humansolutions.org/, who is in need of blankets this winter for their Family Winter and Daybreak Shelter. These families are coming into the shelter with little to nothing to keep them comfortable and warm. The blankets are huge because as the winter months get colder the shelter attracts more families.