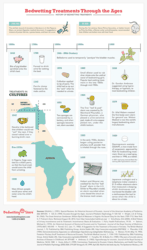 We've all heard of restricting fluids or letting children stop wetting on their own, but how many people know about using frogs or beer as a bedwetting cure?
Ashton, MD (PRWEB) November 29, 2012
The Bedwetting Store, America's leading supplier of bedwetting products, has published "Bedwetting Treatments Through the Ages," an infographic illustrating the history of bedwetting treatments. Using research from literature, patents, and news publications, the bedwetting infographic is presented in a timeline design, with the earliest treatment dating back to 1550 BC.
"We've all heard of restricting fluids or letting children stop wetting on their own, but how many people know about using frogs or beer as a bedwetting cure?" said Colleen Flynn Crutchfield, designer of the infographic and graphic designer for the Bedwetting Store. "It's interesting to see how bedwetting treatments have evolved over time. Some treatments sound absurd, while others just sound painful."
Nocturnal enuresis, or bedwetting, affects at least five million children in the United States. Parents usually wait for their children to grow out of bedwetting, but for the children who don't, it can create a frustrating and emotional toll.
The new infographic includes 19 bedwetting treatments from different cultures, including West Africa. The first recorded bedwetting cure, found in an Egyptian medical document, was believed to be a mixture of juniper berries, cypress leaves, and beer. One of the more popular enuresis treatments during the 19th-20th century was belladonna, or "beautiful woman" in Italian. This poisonous plant was used to temporarily "paralyze" the bladder muscles, preventing children from wetting the bed.
In the past, children were blamed and chastised for their nighttime wetting accidents. They were forced to eat boiled mice with their food and drink urine as punishment. Navaho children had to stand naked over a burning bird's nest to treat their bedwetting problems, according to the infographic.
Nowadays, bedwetting treatments are more ethical and effective. The enuresis infographic includes several versions of the bedwetting alarm, currently one of the most successful treatments for bedwetting. Bedwetting alarms use a moisture-sensitive sensor that is connected to an alarm. When the child wets at night, the alarm sounds, conditioning the child to associate a full bladder with the need to get up to use the bathroom or "hold it in." Most parents prefer wireless or wearable bedwetting alarms over "bell and pad" alarms, in which the child sleeps on a urine-sensitive bed pad that connects to an alarm.
To view or share the bedwetting infographic, please visit the Bedwetting Store.
About BedwettingStore.com
The Bedwetting Store is America's one-stop shop for bedwetting items and waterproof bedding. They have helped tens of thousands of children—and adults—since their start in 2000. They are now the largest distributor of enuresis related products in the United States. The Bedwetting Store is proud to serve the millions of families who seek information and practical solutions to help children stop wetting. They feature a wide assortment of quality products at discounted prices. You'll find their information at your child's pediatrician's office, in many popular parents' magazines and on the Web, of course. Just ask your child's health care provider about the Bedwetting Store. If they specialize in treating childhood wetting, they'll likely recommend one of their products.