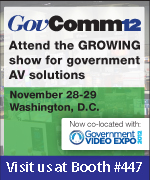 By educating government personnel about the value of communications technology, ASI is aiding our nation's public servants in making the best real-time decisions possible
Richmond, VA (PRWEB) November 28, 2012
Acoustical Solutions is pleased to announce its participation in GovComm 2012, the trade show dedicated to showcasing audiovisual and information communications solutions for the government marketplace and the contractors that service it. Held at the Walter E. Washington Convention Center in Washington, DC, November 28-29, GovComm will provide a one-stop shop for the leading vendors providing videoconferencing, networked audio, acoustics, display technology and more. In addition, keynote speeches and education and manufacturers' training sessions will be offered.
As the industry leader in noise control and soundproofing, Acoustical Solutions will be on hand to answer questions as well as demonstrate the value of optimized room acoustics for audiovisual and information communications applications. Acoustical Solutions is GSA Contract # GS07F0588X, allowing government agencies easier access to quality acoustical products at the guaranteed lowest prices.
A few of the products available on Acoustical Solutions' GSA Contract Product List are AlphaSorb Barrier Wall Panels, Sonex Acoustical Foam, and Sonex Acoustical Ceiling Tiles. These products are used alone or combined with further treatment to absorb sound waves and optimize intelligibility while blocking sound transmission to neighboring spaces. Comprehensive acoustical treatment from Acoustical Solutions will improve the efficiency of AV systems and improve the quality of video conferences and multimedia presentations.
GovComm is produced by InfoComm International, the trade association representing the commercial audiovisual and information communications industries. The show was created to provide an opportunity for government CIOs, tech managers and procurement personnel to interact with the latest technology in a setting that is geared specifically for the government and for local DC-based agencies and key military installations. GovComm 2012 is co-located with Government Video Expo 2012, along with the Enterprise Architecture Conference and the Government Information and Analytics Summit.
"InfoComm commends Acoustical Solutions for participating in this important event," said Randal A. Lemke, Ph.D., Executive Director and CEO, InfoComm International. "By educating government personnel about the value of communications technology, ASI is aiding our nation's public servants in making the best real-time decisions possible."
Visit Acoustical Solutions at Booth # 447.
About Acoustical Solutions, Inc.:
Since 1989 Acoustical Solutions, Inc. has provided the detailed expertise needed to serve the noise control community. Acoustical Solutions, Inc. works with a wide variety of customers from commercial and residential development to worship facilities, recording studios and home theater designers. Acoustical Solutions, Inc. offers the industry's most comprehensive selection of noise control and soundproofing products, including a full line of indoor and outdoor industrial, commercial, environmental and architectural noise control products. For more information please visit http://www.AcousticalSolutions.com, call 1-800-782-5742, or see our media kit.
About GovComm:
GovComm is a professional audiovisual and information communications exposition and conference designed to serve Washington, D.C.-area technology managers, end users, and procurement officers in the government and military sectors. For more information, visit http://www.govcommshow.org.
# # #