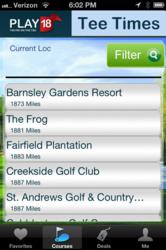 "In just four short months, we have seen some of Georgia's best public golf courses come on board in an effort to reach local golfers and provide them with a price that works for both the customer and the operator." - Matt Brown
Atlanta, GA (PRWEB) November 27, 2012
Recently launched by the Georgia Golf Course Owner's Association (GGCOA), Play18.com features over 50 public golf courses on their online booking website and mobile app. The site, created in July of this year, was developed in an effort to provide golfers with the best price possible and to give course owners full control of how they price and list their available tee times.
"We are so excited about the growth of Play18.com and our mobile app," said GGCOA Executive Director Matt Brown. "In just four short months, we have seen some of Georgia's best public golf courses come on board in an effort to reach local golfers and provide them with a price that works for both the customer and the operator."
Courses featured on the website include Tom Fazio's The Frog in Villa Rica, Bear's Best in Suwanee which was voted Golf Magazine's "Top 10 Courses you can play in America" and Cobblestone Golf Course in Acworth.
Benefits for Golf Course Owners
In direct response to the industry's concerns over current online booking services, the GGCOA, with the support of the National Golf Course Owners Association, developed Play18 to offer a better solution that benefits golfers and the courses. The site was built in collaboration with course owners, golf professionals, online tee experts and other golf associations to develop a service model that is superior to anything currently being offered. There are no costs or trade tee times required for the courses to participate and 100 percent of all of the green and cart revenue goes directly to the courses.
For a complete list of courses that are available on Play18 and to find and book a tee time, visit http://www.play18.com. The Play18 mobile applications are available on iTunes and in the Android Market.
About Play18.com
Play18.com is an online booking engine that connects golfers with the best priced tee times available at local golf courses. Owned by the Georgia Golf Course Owners Association (GGCOA), the site was developed in order to provide the best website and booking experience for the Georgia golfer. Play18 directly pulls available tee times from the golf courses website, where the best price can be found. Currently available in Atlanta, with additional major market launches pending, the Play18 tee time booking engine is available for golf associations to utilize nationwide. For more information, visit http://www.Play18.com.
###