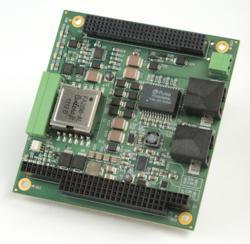 Configured as either an endpoint or midspan device, the PPM-PS397-POE-1 is designed to extract power from a conventional twisted pair Cat 5 Ethernet cable.
Arlington, Texas (PRWEB) November 29, 2012
WinSystems introduces the PPM-PS397-POE-1, a Power over Ethernet Powered Device (PoE-PD) DC/DC supply for a PC/104-Plus compatible computer board stack. Configured as either an endpoint or midspan device, it is designed to extract power from a conventional twisted pair Category 5 Ethernet cable and conforms to the IEEE 802.3af Power-over-Ethernet standard. PoE is a good solution for equipment locations that do not have easy access to other power sources since it can provide moderate power over cable runs up to 100 meters or more. It also reduces wiring costs for installations.
The PPM-PS397-POE-1 is a small, low cost, 25W powered device (PD). DC power is extracted from the Ethernet cable that inputs an onboard, isolated DC/DC converter which generates three different DC output voltages: +5VDC, +12VDC, and -12VDC.
The high-efficiency DC/DC converter operates over a wide input voltage range from 42 to 57 volts and provides a regulated low ripple and low noise output to the PC/104-Plus connector. The DC/DC converter also has built-in overload and short-circuit output protection. A minimum load is not necessary to bring the unit into regulation. Galvanic input to output isolation is 1500VAC.
The PPM-PS397-POE-1 also accepts DC input from 16 - 60 volts through an auxiliary connector. The auxiliary input is dominant, meaning that when present, it will always power the PD regardless of the state of the PoE power.
The PPM-PS397-POE-1 measures 90mm x 96mm and will operate over a temperature range from -40° to +85°C. The unit does not require a fan and needs only convection cooling.
The PS397 is available in two other standard configurations with custom engineered solutions also available for OEM applications. The PCM-PS397-POE-1 is a PC/104 module and the ISM-PS397-POE-1 is an Industry Standard Module (ISM) without the PC/104 and PC/104-Plus connectors populated for use with small embedded systems.
VAILABILITY AND PRICING
Delivery is from stock. Please contact WinSystems' Applications Engineering Group for pricing; telephone: (817) 274-7553, Fax: (817) 548-1358, and e-mail: Info(at)WinSystems.com.
PRODUCT PAGES

ABOUT WINSYSTEMS
WinSystems designs and manufactures industry-standard PC/104, PC/104-Plus, EPIC, EBX, SUMIT-ISM, and STD Bus single board computers (SBCs), I/O modules, Panel PCs, and enclosures for use by OEMs and system integrators worldwide. We have served the industrial, transportation, pipeline, Mil/COTS, communications, remote, and medical markets for over 30 years. We are an employee-owned company.