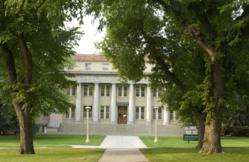 Fort Collins, Colo. (PRWEB) November 28, 2012
Students surveyed say that CSU is a "hidden gem" because of its open communication between students and administration, friendly people, a great location, and an education that includes hands-on experience to prepare them for the real world, according to the 2013 Princeton Review"Best 377 Colleges."
Additional student praise for CSU cited in the Princeton Review survey included:

Provides an education that is valued and opens doors for career opportunities
A university that cares about its students, provides many ways for them to connect with
each other to succeed, and encourages them to become involved in the community
around them

Professors who are willing to help students, give honest and helpful feedback, and help
students network in the larger community

Excellent green efforts, a strong engineering program and many research opportunities.
An outgoing, well-rounded, physically fit student body that is laid back while also placing
an emphasis on grades
Colorado State University OnlinePlus strives to create the same great learning experience for online and distance students that on-campus students receive. OnlinePlus students receive the same CSU degree, research-backed curriculum, and engagement with world-class faculty as an on-campus student receives. In addition, OnlinePlus is ramping up social media communities and their blog to create a space for students to collaborate express their Ram Pride the same way on-campus students might use the inconic Oval. So be sure to find CSU OnlienPlus on Facebook, Twitter, LinkedIn and Google+.
OnlinePlus staff cultivates, advocates, and empowers students on an individual basis to achieve their academic, professional, and personal goals regardless of how big or how small.
Rooted in their land-grant heritage of outreach, research, and service, CSU OnlinePlus supports the advancement of students' education, and strives to provide access to one of the best 377 colleges wherever they are, providing flexibility and convenience in a high-paced world.