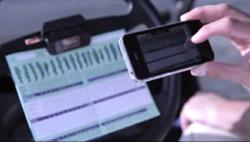 Solving the issue without changing my way of doing things! Thanks TheGrint
Miami, FL (PRWEB) November 28, 2012
Golfers were all used to the idea of not being able to track their golf handicap easily. Remembering to take the Scorecard home and going into the web to enter the score can be a pain for some. And using a phone app during a golf round is just not for everyone. Plus it all costs money for these generic Golf Handicap Calculators
Golfers want to keep doing the same things they have always done. And if there is a solution it needs to be non intrusive to the status quo.
Well... TheGrint.com is pioneering with a service that might revolutionize the way Golf Handicaps are tracked. The value proposition? Do everything the same way, and take a picture of your Scorecard at the end of the round with your phone. And the score will be uploaded for you. How simple is that?
While those scores are being updated TheGrint's algorithm analyzes them and automatically sends news to the friends of the users with relevant information about their rounds. For example, if the user broke 80 for the first time, there will be a message posted in a "Facebook Wall" like page that will show on all of their friends.
If you are interested in knowing more about TheGrint or registering, visit http://www.TheGrint.com or contact them at contactus(at)thegrint(dot)com