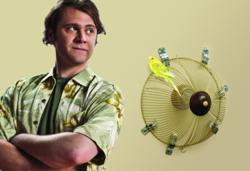 Humor can be a powerful educational tool. We want all New Yorkers to know about the wide range of programs that are available that can increase the energy efficiency of their homes.
Albany, New York (PRWEB) November 27, 2012
A more comfortable, energy-efficient home is within reach. This is the key message of Irreconcilable Temperatures, an online campaign launched today by the New York State Energy Research and Development Authority (NYSERDA) to educate the public in an amusing way about its Home Performance with ENERGY STAR® Program.
Featuring five entertaining video webisodes and a resource website, Irreconcilable Temperatures details the adventures of a thirty-something New York State couple in their quest to make their first home more comfortable and their energy costs more affordable.
"Humor can be a powerful educational tool. This campaign seeks to capitalize on humor in a way that demonstrates to homeowners the many very real and practical benefits of investing in energy efficiency in their homes," said Francis J. Murray Jr., President and CEO, NYSERDA. "We want all New Yorkers to know about the wide range of programs available - from direct incentives to free or low-cost assessments and financing - that can increase the comfort, safety and energy efficiency of their homes."
The Irreconcilable Temperatures campaign provides all the resources homeowners need to get started on energy efficiency upgrades to their home to reduce the amount of energy they use and cut energy costs. Visitors to the Irreconcilable Temperatures online site can:

Follow Wendy and Russell, two New Yorkers with a home that's putting a chill on their relationship. The webisode series chronicling the simple steps they took to reduce their energy use and costs (and stop arguments over who controls the thermostat) will be posted in November and December.
Read stories from some of the thousands of homeowners across New York who have gained better control over their energy use and significantly reduced their home energy bills.
Learn about the steps to getting started, including applying for a comprehensive home energy assessment (free to most New Yorkers) through the Home Performance with ENERGY STAR® Program. These assessments are conducted by a participating Home Performance contractor accredited by the Building Performance Institute, a national standards development and credentialing organization for residential energy efficiency retrofit work.
Understand the incentives and financing options that are available to make energy upgrades easier and more affordable to do, such as a 10 percent cashback incentive on eligible measures, On-Bill Recovery Financing Loans that allow homeowners to pay for upgrades on their monthly utility bills using projected energy savings to pay down the loan, and low-interest unsecured loans. Both loan options offer loans of as much as $13,000 per household, or $25,000 if the energy upgrades meet a higher cost-effectiveness standard.
To watch the webisodes, join the campaign mailing list, or get started on a home energy adventure, visit http://www.nyserda.ny.gov/energy-stars.
NYSERDA, a public benefit corporation, offers objective information and analysis, innovative programs, technical expertise, and funding to help New Yorkers increase energy efficiency, save money, use renewable energy, and reduce their reliance on fossil fuels. NYSERDA professionals work to protect our environment and create clean-energy jobs. NYSERDA has been developing partnerships to advance innovative energy solutions in New York since 1975.