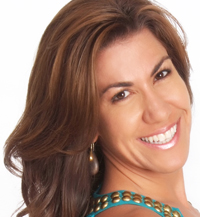 Upsells and cross-sells not only add more income," Sasevich said, "but they allow you to serve your clients more deeply.
San Diego, CA (PRWEB) November 28, 2012
Business owners interested in better serving their clients while selling more may consider using upsells and cross-sells once a client is ready to buy. Lisa Sasevich is known as the Queen of Sales Conversion because she focuses her teaching on cashing in on low hanging fruit in business – and upsells and cross-sells are effective ways to do just that.
"Upsells and cross-sells not only add more income," Sasevich said, "but they allow you to serve your clients more deeply."
In a new article on her blog, "Sell More and Serve More with Upsells and Cross-sells," Sasevich reveals several strategies for successfully implementing upsells and cross-sells.
Business owners who read the article will learn:

Exactly what an upsell and a cross-sell are
How to know which product or service to offer as an upsell
The benefit upsells and cross-sells have for a customer
The best timing for offering upsells and cross-sells
And more.
"Clients in a buying mood are great prospects for upsells and cross-sells," Sasevich explained. "If you make it known to them, it's very possible they will buy something else, which serves both them and you at a higher level."
For more information, or to read the article in its entirety, visit: http://www.theinvisibleclose.com/articles/sell-more-and-serve-more-with-upsells-and-cross-sells/
Recently honored as one of America's Top Women Mentoring Leaders by WoW magazine, Lisa Sasevich, "The Queen of Sales Conversion," teaches experts who are making a difference how to get their message out and enjoy massive results, without being "sales-y."
Recognized sales expert by Success Magazine, and as one of 2012's fastest growing independently owned companies by Inc. Magazine, Lisa delivers high-impact sales-closing strategies for turbo-charging entrepreneurs and small business owners to great profits. According to best-selling author Brian Tracy, "Lisa Sasevich is one of the greatest discoveries in America today!"
After 25 years of winning top sales awards and training senior executives at companies like Pfizer and Hewlett-Packard, she left corporate America and put her skills to test as an entrepreneur. And in just a few short years, Lisa created a multi-million-dollar home-based business with 2 toddlers in tow. Lisa is the undisputed expert on how to make BIG money doing what you love.