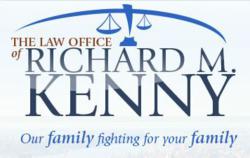 New York, NY (PRWEB) November 28, 2012
In 2009, Richard M. Kenny was nominated to become a part of the Cambridge Who's Who. After undergoing the organization's screening process, he became a member. As a personal injury attorney in New York City, Mr. Kenny has fought long and hard to protect the interests and rights of the injured. He recognized that membership in the Cambridge Who's Who would help him reach even further, taking advantage of the organization's resources for networking and career development. As a member, he is also recognized as a leader in his field.
"Cambridge members are a select group of professionals who are leaders in their respective industries." – Cambridge Who's Who website.
Cambridge Who's Who is an organization that was created to recognize and empower executives, entrepreneurs and professionals throughout the world. Membership is exclusive and is available on an invitation-only basis after a thorough screening and interview process to make sure each candidate is a good fit. According to the organization's website, "Cambridge members are a select group of professionals who are leaders in their respective industries." The organization's mission statement is as follows:
"Cambridge Who's Who® helps professionals to achieve their goals by providing them with an exclusive and comprehensive array of corporate image and branding platforms, networking opportunities and career development resources."
Attorney Richard Kenny's membership serves as recognition of his efforts and accomplishments, as well as his drive to reach even higher goals.
Since graduating from St. John's School of Law in 1990, Richard Kenny has worked tirelessly on behalf of those who have been injured or have lost loved ones as a result of the negligence or carelessness of others. One of his particular areas of focus is the representation of firefighters injured in the line of duty. Though he has been proud to receive many awards and accolades in his career of more than 20 years, he is most proud of his pro bono work for victims of the September 11, 2001 terrorist attacks on the United States. His belief that these victims and their families deserved the best legal representation helped his law office assist numerous victims in their time of need.
Mr. Kenny never shies away from litigation and has spent a good deal of his career in court, fighting for severely injured victims and their families. He has tried more than one hundred cases to verdict and has won tens of millions of dollars in verdicts and settlements on behalf of his clients. A member of the New York State Trial Lawyers Association, the American Association of Justice, the New York State Bar Association, the invitation-only Million Dollar Advocates Forum and the Legends Society of Top Lawyers in the United States, Mr. Kenny continues to prove each and every day why he deserves membership in these organizations.
As a part of the Cambridge Who's Who, Mr. Kenny is recognized for his influence and accomplishments in the legal field. He joins professionals in every major industry across not only the United States but the entire planet.
Determining what to do in the wake of a serious accident or injury can be difficult. It is in times like these that one's choice in attorney can make all the difference. To learn more about Mr. Kenny and his firm, please visit http://www.rmkinjurylaw.com. His key areas of practice include civil rights, nursing home negligence, personal injury, motor vehicle accidents, medical malpractice and Federal Employers Liability Act (FELA) cases.