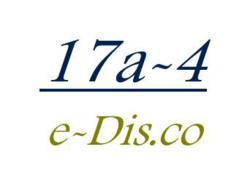 our DataParser works seamlessly with both in-house and out-sourced archival solutions
Millbrook, NY (PRWEB) November 28, 2012
17a-4, llc specializes in e-messaging compliance and litigation technologies. They have developed software solutions to facilitate corporate compliance. 17a-4's DataParser™ was created to allow institutions to leverage effective communication platforms on the market, while still complying with current rules and regulations that govern business. The DataParser supports virtually all communication platforms on the market. 17a-4 has developed the DataParser to allow the transfer of these captured messages to an outsourced, cloud based archive.
Many institutions are now moving to cloud based solutions to lessen the strain on in house resources. "As more and more clients move their email archive to services such as Symantec.Cloud ™, Global Relay® or Smarsh®, they often find that their non-email content either cannot be captured by the vendor or that the additional charge to capture this content is overly expensive.", says Charles Weeden, Managing Partner 17a-4,llc. "At this time, our DataParser works seamlessly with both in-house and out-sourced archival solutions. This additional capability allows institutions to keep some e-messaging / collaboration platforms in house, such as Microsoft® Lync™, and to capture other content from such sources as LinkedIn®, Bloomberg® or Reuters®."
The DataParser software runs as a service to capture messaging content for format and ingestion into an institutional archive. By normalizing content, to look like an Exchange email record, the DataParser allows 3rd party messaging to be incorporated into the stream of Exchange email. The archive vendor will then process these other types of e-messaging as it would a users' email. Interfaces currently supported by the DataParser for Cloud Services include:

Microsoft® Lync™
Microsoft® Sharepoint™
NewsGator®
BlackBerry®
Cisco® Unified Presence™
Oracle® ATG™
For more information about the DataParser for Cloud Services contact sales(at)17a-4(dot)com, call (212) 949-1724 or visit http://www.17a-4.com.
17a-4 llc is a technology company with a strong legal background, they provide information governance solutions designed to accommodate regulatory and technical requirements for cross industry clients. Their DataParser™ is the leading 3rd party e-messaging capture software used by enterprise and small business alike. Professional service offerings include, but are not limited to, SEC Designated 3rd party (D3P) with accompanying Letter of Undertaking (LOU), infrastructure audit/reporting, and extensive e-discovery services handled by their e-Dis.co division. 17a-4 and e-Dis.co are based in New York, NY but operate remote offices nationwide.