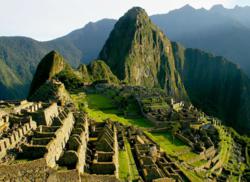 Los Angeles, California (PRWEB) November 28, 2012
The Ancient Mayans may have stopped counting the days after Dec. 21, 2012, but at Spirit Quest Tours, a Las Vegas adventure travel company, it is full speed ahead with an ambitious 2013 schedule of travel opportunities to exotic locales like Bali, Cuba, Peru, Spain, and Egypt. Co-founder Halle Eavelyn, shared her company's 2013 travel schedule during a coast-to-coast book tour earlier this month.
"It's time to look beyond 2012, but If the world ends and you've booked a trip with us, we'll give you your money back," Eavelyn quipped during a recent talk at Vanderbilt University, where she discussed some high points of her travels in Egypt, which she documented in her first travel memoir, Red Goddess Rising.
Eavelyn and Spirit Quest Tours are ending an eventful year of spiritual adventures and eco-tourism with a sold-out two-week tour of Egypt, which includes an eight-day cruise on a private yacht on the Nile, just in time for the much-anticipated planetary realignments in December.
The company launches into a globe-trotting series of spiritual adventures and travel in January 2013, starting with a guided trip to Peru to visit the most sacred sites in the country, led by Peru travel expert and spiritual tour leader Angela Mondato. The trip will include Machu Picchu and the Amazon rainforest, swimming with dolphins and work with an authentic Peruvian Shaman. A second trip to Peru will be held in July.
In April, Spirit Quest Tours will launch its first trip to Cuba, something very exciting for American tourists and those who have always wanted to see this culture-rich tropical paradise. Eavelyn says the tour will feature a "spiritual tasting of all of Cuba's religions," as well as once-in-a-lifetime opportunities to delve into the romantic cultural scene, especially the food and music of the island, including a concert featuring the legendary Cuban Ensemble: the Buena Vista Social Club.
June 2013 offers Spirit Quest Tours' most popular trip, a tour that hits all the sites detailed in Elizabeth Gilbert's novel Eat, Pray, Love. The Eat, Pray, Love Tour is ten days in Bali, and repeat travelers will enjoy new accommodations and heightened tour opportunities. As Eavelyn says, "Bali can go a long way toward changing one's life and inspiring inner peace."
European travel enthusiasts and foodies will appreciate fall in Spain, where wine and food will be a central theme for "Tilting at Windmills: Wine, Tapas and Tales," including Madrid, Barcelona, and the new food capital of the planet, La Mancha. Local experts will lead the group.
"People have always embraced travel as a way to expand their horizons, gain knowledge, and see the world. 2012 has been a year of anticipation in so many ways, but 2013 can and should be a year of new experiences. Our goal is to provide once-in-a-lifetime travel opportunities and access to places average tourists probably will never see," Eavelyn says.
Rounding out the international travel schedule for Spirit Quest Tours will be a return trip to Egypt in late 2013. Eavelyn anticipates another sold-out tour that will include the world's most spectacular ancient wonders, like the Great Pyramids and Sphinx of Gaza, but also destinations few American travelers are privileged to see. It's the uniqueness of the experiences that she says drives her to return and share it with others.
For more information on Spirit Quest Tours and their 2013 Travel Itineraries, visit http://www.spiritquesttours.com. To purchase a copy of Halle Eavelyn's memoir, Red Goddess Rising, visit http://www.halleeavelyn.com.