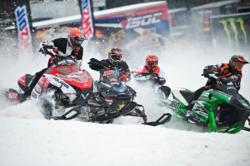 We have hosted snocross events in the past, and love the pure excitement they bring to our corner of Northwest Michigan.
Traverse City, MI (PRWEB) November 29, 2012
High-energy snowmobile racing returns to the Traverse City area this winter when the Turtle Creek Casino & Hotel hosts the Feb. 8-9 rounds of the AMSOIL Championship Snocross Series tour, the world's most prestigious snocross tour.
In an extra thrill for fans of high-performance snowmobiles, Traverse City will also be one of only two stops on the eight-city series to feature a first-ever "freestyle jam session" in which the machines and their drivers are pushed to their limits in a series of jumps, flips and other stunts.
Snocross, the most popular form of snowmobile racing, is a sport in which riders compete at speeds of up to 60 miles per hour on tracks featuring tight turns, banked corners, steep jumps (some as high as 30 feet) and obstacles. In some races, jumping machines can be airborne as much as 130 feet.
The AMSOIL Championship Series, which runs from November through March, is sanctioned by the International Series of Champions, the leading snowmobile race sanctioning organization in North America. Carl Schubitzke, ISOC's director of Operations and Racing, said he was delighted to add Traverse City ("the heart of Michigan's snowmobile country") to the 2012-2013 tour.
"We consider this to be one of our premier events on the national tour," he said. "It's a perfect match and one that we're confident will be the foundation event for future ACSS tour stops."
The race will feature several international snocross racing stars, including X Games gold medalist and snowmobile distance jumping record holder Levi LaVallee; Tucker Hibbert, holder of five straight gold medals at Winter X Snocross and winner of the most ACSS events and championships in history; Canada's Tim Tremblay, the defending ACSS overall Pro Open class champion, and top snocross pros Ross Martin, Robbie Malinoski, Darrin Mees and Michigan's own Kyle Pallin.
Traverse City has long been a favorite destination for snowmobilers, since it's a convenient base for exploring more than 200 miles of the country's most diverse snowmobiling trails. The Boardman Valley Trail, is an 81-mile trail system in the Pere Marquette State Forest, where sightings of turkeys, eagles, deer and other wildlife are commonplace, and is linked to several other regional trail systems, offering even more opportunities for extended distance riding. The Jordan Valley Trail, about a half-hour to the northeast, features over 130 miles of spectacular trails not far from Shanty Creek and the picturesque village of Bellaire.
Since the region's scenery is so diverse, the trails encompass many different landscapes: snug tunnels of tall snowy evergreens, open stands of hardwood where the sun shines down through blue shadows, high ridges where eagles soar, wide meadows that look out over distant glacial lakes. Sledders accustomed to the wide-open raceway style conditions in other snowmobiling areas say they're amazed at how often they seem to have the Traverse City trails to themselves.
An estimated 5,000 race fans are expected to converge on the casino grounds, located 10 miles east of Traverse City in the village of Williamsburg, for the Feb. 8-9 event.
"We have hosted snocross events in the past, and love the pure excitement they bring to our corner of Northwest Michigan," said Rich Bailey, CEO of Grand Traverse Resort & Casinos. "It's going to be an amazing winter playground for the riders and fans."
But it's the addition of the all-new freestyle competition that's beginning to create buzz in the racing community. Freestyle riders (known as "pilots" because they spend so much time in the air) are the daredevils of the sport, and they love to put on a show for their audiences.
All events in the series will be broadcast on the CBS Sports Network, beginning with the opening event in Duluth and running through the season finale in Lake Geneva, Wis. The broadcasts begin Sunday, Dec. 30th, at 10:30 a.m. EST.