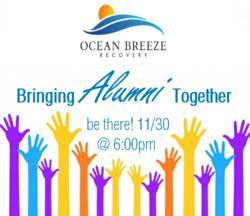 At Ocean Breeze Recovery we firmly believe that drug and alcohol recovery is a life-long process that only just begins in addiction treatment. Aftercare, alumni and group support is critical to staying sober. - Ocean Breeze CEO Peter Cogan
Pompano Beach, Florida (PRWEB) November 28, 2012
Ocean Breeze Recovery is pleased to offer an Alumni Services program which provides clients with ongoing care as they continue on their path toward sobriety. The Alumni Program has been designed to provide much needed support to clients after they complete Ocean Breeze's inpatient drug or alcohol recovery program. While many individuals on the way to recovery relapse back into addiction, the Alumni program helps prevent relapse by keeping clients connected to treatment and support.
Ocean Breeze offers extended support through safe and structured sober housing at their Pompano Beach, Florida, campus. The facility is neatly furnished and comfortable, and features amenities such as a fitness and wellness center, on-site nutritionist, massage therapy, chiropractic care, and beach meditation and relaxation. While living in sober housing, clients have access to recovery staff and counselors, and gain encouragement and motivation from others with the same goals of sobriety.
Extended care options, such as Ocean Breeze's Alumni Program, are necessary steps for many people who are in recovery, according to treatment professionals. Ocean Breeze CEO Peter Cogan explains, "At Ocean Breeze Recovery we firmly believe that drug and alcohol recovery is a life-long process that only just begins in addiction treatment. Clients really enter their journey of addiction recovery when they leave the Ocean Breeze Recovery doors and begin to transition back into their new daily routines of living a sober life, activities, and families. For many of our clients, this is the most challenging part of the drug alcohol recovery process."
In order to celebrate the journey of sobriety, Ocean Breeze will hold an Alumni Event on Friday, November 30, 2012 at their Pompano Beach facility. The event will give clients and former clients a chance to connect, share stories, and celebrate sobriety. Dinner is included and families are welcome. For more information about the Alumni Event, visit the Ocean Breeze Recovery Facbook page or click here for more details.
Ocean Breeze Recovery provides treatment for individuals struggling with drug and alcohol addiction. The Ocean Breeze philosophy is based on treating the entire individual - body, mind, and spirit - throughout their life; "At Ocean Breeze Recovery we treat and empower our clients to aid them in restoring balance to their lives and achieving recovery that will last a lifetime." To learn more about Ocean Breeze Recovery, visit http://oceanbreezerecovery.org/