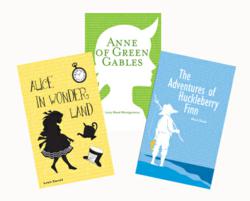 Customized book company, U Star Novels will reprint a paperback edition of a classic novel starring you and your friends as the main characters
Russellville, Kentucky (PRWEB) November 28, 2012
This Christmas, U Star Novels, award-winning publisher of personalized novels has unveiled a collection of classic novels in which anyone can star, the perfect gift for book lovers this holiday.
U Star Novels can make any recipient a literary hero or heroine this Christmas by making them the leading role in some of the most popular classic novels available. Customers can customize the title and even write a personalized dedication inside the front of the book.  This is one of the coolest gift ideas around and one that the recipient will treasure forever.
Get Your Tween Into Reading…. Literally
Let your tween step into the some of the greatest stories ever written and open up a whole new world of possibilities.  Starring alongside six of their friends, these books can't fail to capture their imagination.
For the girls… Let them walk in Dorothy's ruby slippers in The Wonderful Wizard of Oz, tumble down the rabbit hole as Alice in Alice's Adventures in Wonderland or recount the adventures of Anne Shirley in Anne of Green Gables. Even pets can have a starring role on the journey to Oz as Toto.
For boys… Fly to Neverland and battle pirates in Peter Pan or share the entertaining adventures, pranks and superstitions in America's most celebrated pieces of literature, The Adventures of Tom Sawyer & Adventures of Huckleberry Finn.
New Baby
Perfect for a baby's First Christmas, why not immortalize a child's name in a U Star classic novel.  The books make a wonderful keepsake for years to come and wonderful bedtime reading sharing the many adventures ahead of them.  Perfect as a stocking filler or unique Christening gift.
Mom Becomes A Classic Heroine
What Mom wouldn't make a wonderful Jane Austen heroine? Now she can step into her favorite role in these personalized Jane Austen novels including; Pride & Prejudice, Emma, Sense & Sensibility and Mansfield Park. Perhaps her favorite celebrity crush would make a humorous substitution for Mr. Darcy?
Hard-to-buy For…
There's always one at Christmas! Have some fun with these novelty gifts and cast a hard-to-buy for Aunt as the Wicked Witch in the The Wonderful Wizard of Oz or maybe there's someone who'd make the perfect Scrooge in seasonal favorite A Christmas Carol, sure to bring many laughs around the Christmas tree this year!
To make someone a literary star this Holiday, simply replace the characters names with the recipient at http://www.ustarnovels.com and a customized classic just for them will be delivered within 7 days. eBook versions are available as well.
-ends-
For samples, product images or competition prizes, please contact:
Katie Olver
U Star Novels
963 Franklin Road
Russellville KY 42276
E: kolver(at)ustarnovels.com
Skype: kolver
Twitter: @ustarnovels
Books can be ordered from http://www.ustarnovels.com for $24.95
A full list of personalized classics available from U Star Novels include:

   Peter Pan
   Little Women
   Alice in Wonderland
   Wizard of Oz
   Pride & Prejudice
   Romeo & Juliet
   Frankenstein
   The Importance of Being Earnest
   Jane Eyre
   The Three Musketeers
   Black Beauty
   Emma
   Great Expectations
   Adventures of Huckleberry Finn
   Treasure Island
   Dracula
   The Hound of The Baskervilles
   The Adventures of Tom Sawyer
   A Christmas Carol
   The Railway Children
   The Scarlet Pimpernel
   Sense & Sensibility
   The Strange Case of Dr. Jekyll & Mr. Hyde
   A Tale of Two Cities
   The Wind in the Willows
   Oliver Twist
   Mansfield Park
   Anne of Green Gables