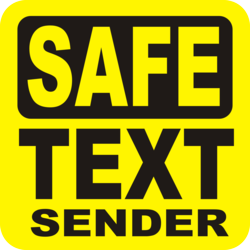 Petaluma, California (PRWEB) November 29, 2012
How many times do people take their eyes off the road because the phone is ringing, or become distracted by the sound of an incoming text? In a world of constant communication, sometimes it's hard not to respond - but now it's easy, without putting oneself or anyone else in danger.
Safe Text Sender is a new app for the Android market that eliminates the distraction and temptation from replying to incoming text messages and phone calls while driving. This lifesaving app simply silences mobile phones (without interrupting GPS navigation or interfering with emergency situations) and automatically replies to incoming texts and calls, indicating the user is "driving" and using the Safe Text Sender app to respond. Once the driver reaches their destination, users can safely read and reply messages Safe Text Sender has conveniently filed for quick access.
Safe Text Sender's benefits go beyond driver safety. Whether someone is playing golf, at the movies, out to dinner or in a meeting, Safe Text Sender simply deploys customized automatic away messages pertaining to any current activity.
Unfortunately, texting and driving is all too common - but it's deadly. A texting driver is 23 times more likely to get into a car crash than a non-texting driver and 80% of car accidents are attributed to distracted drivers. In just a blink of an eye, drivers replying to incoming text messages and calls can change their lives and the lives of others forever, instantly.
By activating Safe Text Sender, drivers are making the simple choice to protect oneself and others on the road. Be smart and choose Safe Text Sender and remember, it's automatic in the automobile.
Available for download at Google Apps and http://www.safetextsender.com .