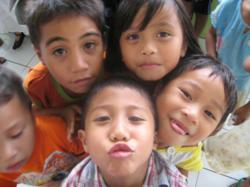 "We are proud to sponsor and work with 5 Star Legacy Foundation," said Dan Norman, President of Synergy Worldwide.
Highland, UT (PRWEB) November 27, 2012
The 4th annual 5 Star Legacy Golf Event was held recently and once again, was a great success. Thanks to all who participated, and some amazing sponsors, 5 Star Legacy was able to raise a substantial amount of money to help fund their on-going philanthropic endeavors including building a special library for an orphanage in Surabaya, Indonesia.
Over 150 people participated in this event as well as generous sponsors who contributed and gave incredible support. Synergy Worldwide, a health and nutrition company was the title sponsor with Qualtrics, EvTech, Platinum Management, Hotel Park City and IntegraCore adding their support as well. Thirty-two foursomes participated in the golf event and afterward at the luncheon, an auction and raffle was held for the many prizes. "This event is the highlight of my golf season," stated Sharm Smith, an annual participant and supporter of 5 Star Legacy Foundation. "We are proud to sponsor and work with 5 Star Legacy Foundation," said Dan Norman, President of Synergy Worldwide. He continued, "Our company motto is 'Leave a Legacy' and through 5 Star our employees and team members have that opportunity."
More importantly, however, was the money raised to help further 5 Star Legacy's efforts to change lives around the world. Started in 2007, 5 Star Legacy has been working to alleviate the suffering of children, their families and their communities by helping to break the cycle of poverty. 5 Star Legacy concentrates on 3 key areas. Literacy for children in grades K-12, Hope through scholarships for higher education and Self-Reliance through entrepreneurism. "Having had the opportunity to visit numerous countries around the world, it is shocking to see the absolute lack of opportunity that kids have due to the conditions they live in," said Mark Comer, Founder of 5 Star Legacy Foundation. "Our main goal is to give kids that opportunity to succeed!"
In May of this year, Mark traveled to Indonesia and spent two weeks overseeing the work being done by 5 Star Legacy Foundation. He visited and directed continued financial support to orphanages in Bali, Surabaya and Jakarta. "It is amazing how so little can go so far in many of these countries! In Surabaya, for just $60 per year, we can literally put a child through school. We have been fortunate to have great donors and support that allows us to give children hope in many countries by supporting their educational needs!" said Mark. 5 Star Legacy is supporting close to 1,000 children on an annual basis.
Currently, 5 Star Legacy is helping support children in the Philippines, Indonesia, Vietnam, Japan, Korea, Thailand and Chile. The annual winter warmth drive that helps support the Wildcat Christian Academy in Gallup, New Mexico has been one of many impactful initiatives in the United States.
The golf tournament is a significant part of 5 Star Legacy's fundraising efforts. Be sure to watch for our other upcoming 5 Star Legacy events. To donate or get more information, visit http://www.5starlegacyfoundation.org.