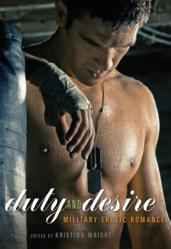 From the quintessential military men and women to the loved ones who wait at home for their return, the stories in Duty and Desire have it all.
—Cat Johnson, author of Red Blooded
(PRWEB) November 28, 2012
The only thing stronger than the call of duty is the call of desire. Duty and Desire enlists a team of hot-blooded men and women from every branch of the military who serve their country and follow their hearts. Stateside and abroad, these women meet passion and danger head-on.
Kristina Wright was featured in USA Today's blog Happily Ever After and shares her love of military films. Romantic Times Magazine also gave Duty and Desire a 4-star review. Wright wrote for the Inklings section in Tuesday's Shelf Awareness for Readers, where she talked about the motivation behind writing, editing, and reading anthologies.
Described by The Romance Reader as "a budding force to be reckoned with," Kristina Wright had no idea what to expect from military life when she married an enlisted sailor after a whirlwind courtship three months before the first Gulf War. She lives with her husband and sons in Hampton Roads, Virginia, home to the legendary SEAL Team Six and the largest naval base in the world.