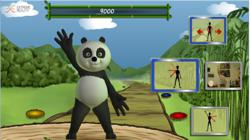 PandaMania and the Extreme Motion SDK represents an amazing opportunity for both gamers and game developers alike to experience motion capture gaming
Herzlia, Israel (PRWEB) November 28, 2012
Extreme Reality, developer of Extreme Motion and Extreme UI software, announced today the release of PandaMania, the first full-body 3D motion capture game that requires no additional hardware. PandaMania, a 3D motion dance game, uses a standard 2D camera for whole body motion-capture, greatly widening the availability of motion games while reducing the costs of expensive hardware. Until mid-December, PandaMania will be exclusively available on Samsung devices operated by Windows 8 OS.
Extreme Reality also announced the availability of the Extreme Motion software development kit (SDK), which enables software developers to create full body motion games for any device with a standard 2D camera. SmartTVs, PCs, tablets and other devices could add full motion capture technology without the added expense of a 3D depth camera or console. Access to the Extreme Motion SDK is available on a limited basis to selected game developers who will have the ability to design and develop their own motion-controlled game based on Extreme Reality patent-protected technology.
PandaMania is a gesture-controlled dance game that is completely in sync with the user's movements. Using proprietary software technology, PandaMania captures a user's motion in difficult noise, lighting and distance settings using a standard VGA camera. PandaMania represents an innovative technology that enables the shift in full-body motion gaming from 3D to 2D game platforms.
"PandaMania and the Extreme Motion SDK represents an amazing opportunity for both gamers and game developers alike to experience motion capture gaming," said Elad Dubzinski, CEO of Extreme Reality. "By enabling motion gaming on standard 2D web cameras, we're evolving past the console and proprietary hardware model to any modern device, in any environment with lower restrictions on cost and availability."
PandaMania can be found now on the Samsung App Store and is available immediately for download from the Microsoft Windows 8 Application Store. Software developers interested in the Extreme Motion SDK can apply HERE. For more information on Extreme Reality, visit http://www.xtr3d.com.
About Extreme Reality
Established in 2005, Extreme Reality, also known as XTR3D, is a privately held company based in Herzlia, Israel. The company is the developer of the patented Extreme UI gesture control and Extreme Motion full-body 3D motion capture software. Supported by strong intellectual property, this powerful technology allows any consumer electronic device to enable full-body 3D motion capture using a standard 2D camera. This software can be implemented on any platform, turning any consumer electronic device into a full-body motion-controlled game system. For more information, visit http://www.xtr3d.com.
###