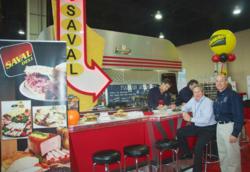 Elkridge, Maryland (PRWEB) November 28, 2012
As a celebration of Saval Foodservice's 80th anniversary, on October 17, 2012, Saval held its Saval Extravaganza, at the luxurious Gaylord Hotel and Convention Center in National Harbor, Maryland. The extravaganza was guaranteed to be the biggest and best of all of Saval's foodshows, and they delivered on that promise.
Attendance was at a record high, and each of the sales reps, staff, and guests was upbeat and positive. With over 120 booths, guests were able to purchase Super Deals and learn about new ideas for profitability. Saval staff was on hand to teach chefs and restaurateurs how to compete and become the cutting edge competition against the value chains, as well as how to maximize utilization of their products. Author Michael Attias, of Cater or Die, was present to speak in a seminar about catering and its crucial benefits in the food industry.
In addition to food, restaurant products, and catering seminars, guests were also introduced to Saval's offering of social media, digital, print, and marketing services. Web advertising seminars were also available to those with a need for these services. With Saval's recent taking on of CNG trucks, guests were educated on the future of Saval trucking and its continuing impact on a greener earth.
Attendees likely all walked away with something to benefit their businesses, whether with new product, services, or knowledge. Saval was determined to make this Maryland, DC, and Northern Virginia joint show the most memorable of all in celebration of the decades past and looking ahead to their future. And with great success, this was by far their most extravagant foodshow ever.