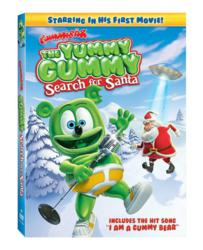 (PRWEB) November 29, 2012
The animated internet sensation Gummibär makes his US television debut starring in "Gummibär: The Yummy Gummy Search For Santa" on Saturday, December 1st at 8am on the CW channel as part of their Saturday morning Vortexx programming. The 1 hour special features everyone's favorite singing and dancing animated gummy bear using his charm, lovability, and dancing skills to rescue Santa and save Christmas. The special will be repeated on the two following Saturdays – December 8th and December 15th.
When Santa is reported missing on Christmas Eve, Gummibär and his band of wacky, misfit friends shake their booties from the North Pole to the tropics on a madcap search. But when they discover Santa was abducted by a dance-crazed alien, the fate of Christmas morning rests in the hands – and feet – of our lovable green friend! The show features the #1 hit "I Am A Gummy Bear (The Gummy Bear Song)," two holiday-themed songs, and other Gummibär hits. Christmas has never been this much fun!
Gummibar is everyone's favorite singing and dancing internet star. Gummybear International has established the goofy and lovable cartoon character as one of the most viewed music artists and entertainment personalities in the history of YouTube with well over 2 billion views.
Gummybear International is engaged in the creation, development, and branding of animated entertainment properties, as well as musical content based on and produced for such properties. It markets and sells recorded musical and video products in various physical formats, such as compact discs and DVDs, and digital formats, such as downloads and ringtones, through a worldwide network of established distributors and licensees. The company's music publishing segment owns and acquires rights to musical compositions, markets these compositions, and receives royalties or fees for their use. It also is actively developing mobile and computer based games and exploiting merchandising rights for its brands in cooperation with a variety of licensing partners. GBI is working on a number of film and TV projects. The company is headquartered in New Jersey. For more information, visit the Gummybear International website at http://www.gummybearinternational.com/.