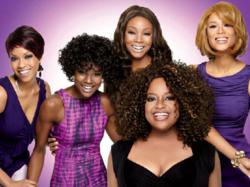 Sherri's 11 new NOW wigs are designed to dazzle the crowd. This collection consists of 5 short and sassy styles, 4 gorgeous medium lengths, and 2 long and luscious styles
Santa Ana, CA (PRWEB) November 28, 2012
Voguewigs.com announces the New Sherri Shepherd NOW wig collection by LuxHair. This groundbreaking, fashion forward line of beautiful wigs will create the perfect hair for anyone. This new collection offers trendy looks at affordable prices. The Sherri Shepherd NOW wig collection has the most high fashion, editorially exquisite wigs perfect for any desired look.
Sherri Shepherd is a daytime Emmy Award Winning co-host, actress, and mom. She has a true passion for wigs and extensions, which allow her to effortlessly change her look for TV, movies, red carpets and everyday life. Sherri actually wears all the wigs from her NOW collection herself – from a cute bob to a wavy long layered look or a sleek up-do. With her NOW Collection, wig wearers can change their look as often as she does.
Sherri's 11 new NOW wigs are designed to dazzle the crowd. This collection consists of 5 short and sassy styles, 4 gorgeous medium lengths, and 2 long and luscious styles. All her wigs are made with Keralon Plus fibers that feature an exclusive Keratin coating. This special coating keeps the hair soft, silky and beautiful. The Keralon Plus fiber is also heat friendly, so it can be curled or straightened to the exact style desired. Each wig is pre-styled and cut to resemble celebrity hairstyles.
Short hair is easy and fast to style, perfect for a busy lifestyle. The Angled Tomboy wig, Sleek Angle wig and Stacked Bob wig are different asymmetrical styles ready to wear with a firm shake right out of the box. Looking for a cute pixie style? The Textured Pixie wig is a sassy pixie cut with choppy face framing bangs. Or have some fun with the Full on Curls wig, a modern short length with fun cork screw curls with tons of volume!
Medium length wigs never go out of style as well. The Soft Curls Lace Front wig and Casual Curl Lace Front wig both feature soft open curls for a volumized look. For a more spiral curl, try the Curl Intense Lace Front wig which features playful ringlets that spiral and bounce with rolling layers. We are seeing the modern Bob make a comeback as well lately. The Big Wave Bob Lace Front wig is a must have modern, chic and versatile soft layered hairstyle. With slightly curled ends, this Big Wave Bob wig is gorgeous.
Women love long wigs because it makes them feel sexy. The Luscious Layers Lace Front wig is a long, sleek texturized layered style with lots of movement. The Goddess Waves Lace Front wig is a gorgeous long layered with large open waves.
These 11 new NOW wigs by LuxHair created by Sherri Shepherd will definitely turn heads and make anyone feel more beautiful, confident, and comfortable. Whatever style: short, medium or long, Sherri has the look that will make a bold statement. The NOW wigs are designed to display the most fashion forward styles with an ease of comfort, so anyone wearing these wigs will feel more radiant.
About Voguewigs.com:
Voguewigs.com is a rapidly growing e-commerce company that offers the best collection of wigs and hairpieces. With our extensive experience in the beauty industry and our hands-on expertise, we strive create the best shopping experience possible. Our mission is to enable every woman to have the hair they have always dreamed of.
Contact:
For more information on the NOW wig collection by LuxHair offered on Voguewigs.com, please email sales(at)voguewigs(dot)com or call 1-888-727-9447, or you can also visit http://www.voguewigs.com.