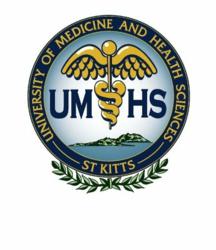 "The entire community pulled together to demonstrate our commitment to educating tomorrow's physicians. The site team members were impressed by our dedication and collegiality, and recommended full accreditation," ~Warren Ross, President of UMHS.
St. Kitts, West Indies (PRWEB) November 29, 2012
The University of Medicine and Health Sciences (UMHS) has received full St. Kitts Accreditation, signifying major progress for a school determined to be a leading medical institution.
Caribbean medical schools are a popular alternative for American and Canadian students who are unable to gain admission to overwhelmingly competitive domestic schools. Earning full accreditation in its host country is an important achievement for a Caribbean medical school. UMHS receiving full accreditation from St. Kitts and Nevis signals continued, rapid progress toward the University's mission of educating tomorrow's physicians.
The Accreditation Board of St. Kitts/Nevis uses clearly defined standards for accreditation to evaluate medical education programs, including:

areas of organization
physical facilities and equipment
clinical resources
library and information resources
programs and curriculum
admissions policies
faculty qualifications
research programs
The Accreditation Board recognizes UMHS as meeting or exceeding all of the standards required for educating physicians. These comprehensive standards are in place to ensure that UMHS students receive the training needed to protect and preserve human health. The site visit team examined all aspects of the University that relate to medical student instruction. They conducted extensive interviews of faculty, staff and students, and in their final analysis concluded that students are receiving the best professional medical training possible.
About UMHS:
The University of Medicine and Health Sciences (UMHS) is a Caribbean medical school, founded in 2007, offering a Doctor of Medicine degree program. Students begin their basic science studies in St. Kitts, West Indies, and complete their clinical training in teaching hospitals throughout the United States. UMHS prides itself on its state-of-the-art campus, small class sizes, high student retention, and near perfect USMLE passing rates.
For more information about UMHS, visit us online or inquire/apply here. Prospective students, advisors and faculty can reach us as 212-868-0855.