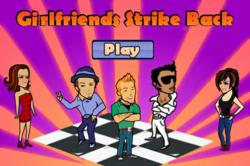 Los Angles, California (PRWEB) November 27, 2012
BroadLit, a transmedia company delivering romance through a variety of products and distribution channels at TruLOVEstories.com, is releasing its first mobile game for iOS and Android. Girlfriends Strike Back is entertaining for women of all ages -- or for anyone who has ever dated! Girlfriends Strike Back engages players with creative animations and gameplay highlighted by the hilarious antics of the characters and engaging levels. It is now available as both a "freemium" game and in a paid version (Premium) for $1.99.
Women are avid casual game players, yet few of these games are designed specifically for women. Girlfriends Strike Back was developed to deliver a mobile game that busy women could enjoy when they have a few minutes or a few hours to escape from their hectic day.
The gameplay is aimed at shaping up the bad boyfriend. The player's ammunition includes just about everything found in a woman's purse (hairbrush, compact, lipstick), plus high heels, an expanding rubber ducky and more. Using her tools at hand, the player even launches her ammo with a slingshot that happens to be a bra!
When girlfriends first fall in love, they enter the "love is blind" phase where their boyfriend can't do much wrong. He gets away with a LOT when love first blooms.
As the game progresses the girlfriend begins to think that his slobbiness is just laziness. His perpetually being late makes him look like he's either incredibly untogether or that he thinks he's the King of the Universe and his time is more valuable than hers – or anyone's, for that matter. And his continual flirting with other women now seems insulting and kind of low-lifey.
But perhaps ultimately he has greater virtues that overrule these incredible irritations. Or perhaps not. Here's where the girlfriend has to decide if they're going to dig in and deal with the stuff about him that drives her crazy — or if it's just time to ditch him.
And so, angry girlfriends must decide to carry on with Mr. Slobby Tardy Flirt, or not, but along the way they can enjoy a little humorous payback with Girlfriends Strike Back.
Features include:

Character driven storyline
Single player
Retro cool graphics
Facebook integration
Leaderboards
63 levels in the Premium version, 42 in the freemium game
Achievement awards of extra ammo and virtual flowers, chocolates, flowers, jewelry and more
Play the game and watch that two-timing boyfriend turn into a rat or that slob of a boyfriend turn into a pig as the player's score pops to the top of the meter.
The games "angry girlfriend" player uses all of her weapons to cause trouble for Mr. Bad in order to win points on the Bad Boy Stress Meter, achievement awards that buy her more ammo, and bragging rights on the score board. The more she scores, the more he's sore (and sorry). Using her weapons of MESS destruction, if the player wins enough points, he'll get out the broom and start sweeping up, and he may even send flowers and chocolates!
Girlfriends Strike Back is now available for iPhone, Android, Kindle, and Coming Soon for iPads and Nook. The game was created by BroadLit's game division -- Broadlicious -- and Bitfold Group Game Developers. You can Like Girlfriends Strike Back on Facebook, Follow us on Twitter, and Visit us at GirlfriendsStrikeBack.com.
ABOUT BROADLIT
BroadLit® combine's the popular genre of romance with the emerging world of new media technology and delivers to today's women romance through its many multi-media channels. BroadLit's website hub, TruLOVEstories.com, is specifically designed for women looking for a little romance seasoned with humor. The site offers novels, stories, games, merchandise, contests, videos and other opportunities for building a strong community.
In addition to bringing back to life the assets of True Romance and True Love Magazines in the TruLOVE Collection series, BroadLit is also publishing original contemporary romance novels and mobile games for women. BroadLit is a Los Angeles-based company launched by the owners of Broadthink, a boutique branding and new business development media company.
ABOUT BITFOLD
Bitfold is an international team of game developers focused on creating social games for social networks, iOS, and Android. Bitfold's studios are based in Belarus, Ukraine, and the U.S. and are manned by people who love making games and who have many years of experience making online games and running a very tight, well-structured development process.