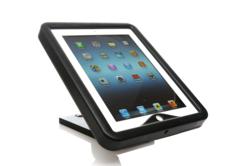 Archelon is committed to our customers and our latest product evolution is an affirmation that we listen to their feedback and value their opinion.
San Diego, CA (PRWEB) November 28, 2012
Archelon Enclosures, a leading manufacturer of iPad® and tablet enclosures, recently introduced the Archelon EXO. The Archelon EXO is an evolution of the original design of Archelon Enclosure offering a variety of new features that provide added security.
Based on customer feedback, functionality has been optimized and changes have been made to the original design to help better control user interaction. The Archelon EXO now features tamper-proof plugs that easily fit into and cover all open ports on the iPad® enclosure. This feature provides added security by limiting user access to the power button, volume control and audio jack. In addition, the Archelon EXO also offers an easy pop-in and pop-out plug to cover the home button and a wider cord canal with placement hooks, allowing users to securely lock the charging cable in place. Power Cord plugs also protect the charging cable from being removed.
The Archelon EXO offers a patented tri-axial swivel joint that enables users to utilize multiple viewing options including portrait, landscape, side-to-side, and up and down. These ergonomic views allow them to work in virtually any environment. To adapt to applications where space is at a premium, the Secure Flip model offers a low profile mounting option for counters making it ideal for small spaces and gives a 180 flip feature. Available in a kiosk form factor, the Floor Stand Kiosk model offers a sleek design and a weighted base so there is no tipping while the stand is in use. It is also ADA Compliant. The Archelon EXO is also available in traditional Table Top and Wall Mount formats.
"Archelon is committed to our customers and our latest product evolution is an affirmation that we listen to their feedback and value their opinion," stated Debi Besmer, Managing Partner at Archelon Enclosures. "The Archelon EXO is also a great product offering for channel partners who are looking to offer a solution that can differentiate their organization from competitors in the sales process."
The Archelon EXO is the ideal hardware solution for industries such as point of sale, retail, hospitality, medical, education and government. To learn more about Archelon Enclosures, visit http://www.archelonenclosures.com.
About Archelon Enclosures
Archelon Enclosures is a Division of Motivational Systems, Inc. Headquartered in San Diego, California, Motivational Systems, provides graphic and interior design services, complete sign systems, and custom interior displays and furnishings to residential and commercial builders and developers. Our sales and information centers, sign programs, graphic design and architectural models are consistently honored with local, regional and national awards. MSI is dedicated to being a contributing member of the communities in which they do business and provides an environment of opportunity for both client and employee to exceed their highest expectations. Motivational Systems was established in 1975. For further information, please visit: http://www.motivationalsystems.com or http://www.archelonenclosures.com.