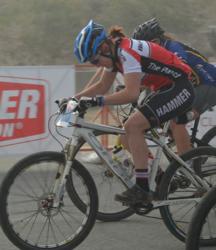 OCO is a good fit for me. I like having a challenge, and I find the work in online Algebra 2 and online World Cultures exciting.
Westlake Village, CA (PRWEB) November 29, 2012
Oaks Christian Online School freshman, Daisy Ward, and her team came in first place in the Twenty-four Hours of Fury mountain bike race put on by TREK Bicycles and 4 Peaks Racing. The AZ DEVO , Junior U23, cycling development team raced around Arizona's McDowell Mountain Regional Park, northeast of Phoenix, Arizona, from 10:00 am on November 3rd through the night until 10:00 am November 4th. Each lap was approximately ten miles of desert racing, and the team with the most loops in twenty-four hours won. This race was to prepare the team for the twenty-four hour cycling nationals in October of 2013. In her blog, Daisy wrote, "Being a very fast course, a majority of my first laps, scratch that, all of my laps were primarily all-out sprints. I was shocked that a 24-hour race could come down to the last couple of minutes."
Daisy also won the Arizona Mountain Bike Association State Championship last year for Category 2, Females 15-18. She is now training to defend her title of top female 15-18 by racing category 1 in the state series that begins in January and hopefully to go on to nationals and beyond. Daisy learned much of her excitement for the sport from her parents and her older brother who now races downhill. Although Daisy knows that colleges such as Fort Lewis College in Durango, Colorado, and the University of Colorado, in Boulder, have great biking programs, she is not sure yet where she would like to attend college. She does know that she wants to be prepared through a college-preparatory, online Christian high school, though, that also allows her flexibility. Daisy attends Oaks Christian Online School (OCO). She says, "OCO is a good fit for me. I like having a challenge, and I find the work in online Algebra 2 and online World Cultures exciting." Daisy also plays the bass and sings on local church worship teams. She likes to mix her faith with her desire to succeed. "With OCO I can collaborate with students and teachers who share my faith, but we don't discount ideas from different worldviews; we take the time to analyze them."
The main campus of Oaks Christian School in Westlake Village, CA opened in the fall of 2000 and Oaks Christian Online School (OCO) opened for full-time, online students in the fall of 2011. The online Christian high school provides a rigorous and challenging college-preparatory education for high school students all around the world in a Christian environment. Oaks Christian Online School continues to enroll part-time and full-time students throughout the school year and regularly hosts information sessions on its main campus – 31749 La Tienda Drive, Westlake Village, CA 91362, as well as virtual information sessions for prospective student families. Interested students can visit the website http://online.oakschristian.org to R.S.V.P.
For additional information about Oaks Christian Online School, its courses, curriculum, admissions or application process, please visit http://online.oakschristian.org, call 855.462.6257, or contact a school representative at [email protected]