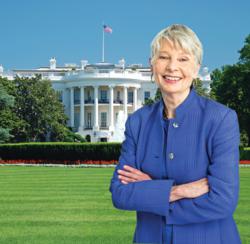 CLAREMONT, CA (PRWEB) November 27, 2012
Eleanor Clift, political reporter, television pundit and author, examines the outcome of the 2012 elections in "The Road Ahead: Is There a Mandate for Change?" at 7 p.m. on Nov. 29 in Scripps College's Garrison Theater, 231 E. 10th St. This lecture is free and open to the public.
As a contributor to Newsweek magazine and the Daily Beast Web site, Clift writes about politics and policy in Washington, D.C. She has covered every presidential campaign since 1976. Formerly Newsweek's White House correspondent, Clift also served as congressional and political correspondent for six years. She was a key member of the magazine's 1992 election team, following the campaign of President Bill Clinton from the start to inauguration day. In June 1992, she was named the news magazine's deputy Washington bureau chief. Clift also can be seen on the syndicated weekly TV talk show "The McLaughlin Group."
Clift and her late husband, Tom Brazaitis, a columnist for The Plain Dealer in Cleveland, wrote two books together, "War Without Bloodshed: The Art of Politics" (Scribner: 1996) and "Madam President: Shattering the Last Glass Ceiling" (Scribner: 2000). She has also co-authored "Founding Sisters and the Nineteenth Amendment" (Wiley: 2003) and most recently "Selecting a President" (Thomas Dunne Books: 2012).
Doors open at 6:30 p.m. Priority seating in Garrison Theater will be given to members of Scripps College who present their Scripps ID. All other seating will be available on a first-come, first-served basis. For more information: (909) 607-9372 or http://www.scrippscollege.edu/malott. This event is made possible by the generosity of the Alexa Fullerton Hampton Endowed Speakers Program.
Scripps College was founded in 1926 by Ellen Browning Scripps, a pioneering philanthropist and influential figure in the worlds of education, publishing, and women's rights. Today, Scripps is a nationally top-ranked liberal arts college and women's college with approximately 950 students, and is a member of The Claremont Colleges in Southern California. The mission of Scripps College is to educate women to develop their intellects and talents through active participation in a community of scholars, so that as graduates they may contribute to society through public and private lives of leadership, service, integrity, and creativity.