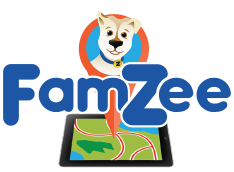 "In many ways, giving your child a smartphone is a lot like handing them a blank check," said Daniel Rudich, senior vice president.
Montreal, QC (PRWEB) November 28, 2012
As the holidays approach, the newest smartphones will be on the wish lists of teens and tweens, forcing parents to contemplate whether their child is ready for a smartphone. A recent AT&T study* found that, on average, kids receive their first cell phone at 12-years old. How can parents enjoy peace of mind following this purchase that is frequently associated with concerns around behavior and cost? Parents can feel comfortable giving their teens and tweens their first smartphone this holiday season thanks to FamZee, a new family smartphone management solution.
FamZee is a smartphone app that securely communicates with the FamZee.com website, where parents can manage and monitor the usage, location and activities of their family's connected devices. FamZee also offers all connected family members an emergency alert button, as well as a check in button. FamZee helps parents achieve peace of mind that their child will use the phone responsibly, such as not texting at school. FamZee lets parents monitor the data, voice and text messaging usage of their children's mobile devices in real-time and lets them lock a device if it goes over its usage allowance, ensuring that the family's mobile phone bill does not spiral out of control.
"In many ways, giving your child a smartphone is a lot like handing them a blank check," said Daniel Rudich, senior vice president. "Between voice minutes, text messages and data, it's easy for teens and tweens to rack up an astronomical bill with their first smartphone. FamZee allows parents to gain control over their family's smart device usage and costs, so they can feel comfortable giving the smartphone on their child's wish list."
FamZee helps parents manage their mobile families in three key ways – safety, supervision and savings. Parents can simply login to http://www.FamZee.com to set up rules, warnings and alerts to monitor devices. They will also be able to view reports or receive email alerts on the mobile activity of each user in the family.
FamZee offers two levels of service – a free plan where users have access to personal usage management, basic location tracking and emergency alerts; and a premium service for $0.99 per device per month that includes the ability to create an unlimited emergency distribution list, track the location history of each family member's device, receive urgent email alerts for critical location, usage and time based events, as well as create parental control rules that lock devices.
FamZee is a division of Tangoe, Inc. (NASDAQ: TNGO), a leading provider of communications lifecycle management software and related services. To learn more about the features and benefits of FamZee and how to register, please visit http://www.FamZee.com.
About Tangoe
Tangoe is a leading global provider of communications lifecycle management (CLM) software and services to mobile users, carriers and businesses of all sizes. CLM encompasses the entire lifecycle of communications assets and services, including planning and sourcing, procurement and provisioning, inventory and usage management, mobile device management, invoice processing, expense allocation and accounting, and asset decommissioning and disposal. Tangoe's communications management platform is an on-demand suite of software designed to manage and optimize the complex processes and expenses associated with this lifecycle for both fixed and mobile communications assets and services.
Additional information about Tangoe can be found at http://www.tangoe.com. Tangoe is a registered trademark of Tangoe, Inc.
*AT&T Mobile Safety Study published June 2012: http://www.att.com/gen/press-room?pid=22917