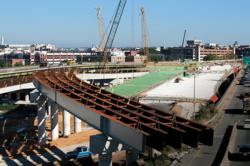 HNTB is committed to providing time- and cost-effective solutions that bring highly complex bridge projects to life
KANSAS CITY, Mo. (PRWEB) November 27, 2012
In its annual Top Bridges List, Roads & Bridges magazine has included four HNTB-related projects in the Top 10 and ranked the District of Columbia Department of Transportation's 11th Street Bridges project No. 1.
"HNTB is committed to providing time- and cost-effective solutions that bring highly complex bridge projects to life and address the mobility and redevelopment needs of the communities where we live and work," said Rob Turton, HNTB national bridge practice leader. "This recognition is an illustration of the long-term value we're providing to our clients and their constituents."
The HNTB-ranked projects include:
No. 1: 11th Street Bridges – The replacement of the 11th Street Bridges and construction of new interstate connections between DC-295 (Anacostia Freeway) and Interstate 695 (SE/SW Freeway) is the District Department of Transportation's largest infrastructure project ever undertaken. HNTB Corporation has been providing construction management services since 2009, and the project is ahead of schedule and under budget. The $380 million effort will relieve one of the region's major traffic chokepoints while helping restore and revitalize the Anacostia Waterfront. It is the keystone of a larger 30-year, $10 billion effort to restore the waterfront along Capitol Hill and Historic Anacostia. HNTB helped DDOT develop an innovative design-build-to-budget procurement model, an alternative delivery method, fixed-price approach, along with extensive risk management, that is allowing DDOT to deliver 80 percent of the project for 60 percent of the original project cost, saving approximately $100 million and ensuring completion by November 2015.
No. 4: Mississippi River Bridge – The new, HNTB-designed cable-stayed Mississippi River Bridge is the first built in more than 40 years between downtown St. Louis and St. Clair County, Ill. It will relieve traffic on nearby bridges, primarily the Poplar Street Bridge, which is the only urban interstate bridge between Illinois and Missouri and only one of two bridges in the United States that carries three interstates – I-55, I-64 and I-70. The new bridge will allow for the relocation of I-70, resulting in less congestion, fewer crashes and reduced fuel use for drivers. HNTB's cable-stayed design features two, delta-shaped towers, which reached their full, 400-foot height this past summer. When completed in 2014, the bridge will rank as the third longest cable-stayed in the country. While a traditional design-bid-build project, HNTB used an alternate technical concept methodology that solicited input from pre-qualified contractors halfway through the design process. This helped the team optimize constructability and cost while also speeding completion of the design.
No. 7: Cleveland Innerbelt Bridge – When it opened in 1959, the original Innerbelt Bridge – also designed by HNTB – was the widest bridge ever built in Ohio. After more than 40 years, however, the Ohio Department of Transportation new the aging structure needed to be built and selected the design-build team of HNTB and Walsh Construction to design and construct a new span. Crews broke ground on the new Interstate 90 westbound bridge in May 2011, and it currently is scheduled to open for traffic in November 2013. Carrying more than 138,000 commuters each day across the Cuyahoga River, the Innerbelt Bridge provides a vital link into downtown Cleveland. By developing a detailed maintenance of traffic plan utilizing regional interstate alternate routes and implementing a broad-based public outreach campaign, to date the team has performed its work without any significant inconvenience for the traveling public. Using this plan to create long-term work zones, which could be kept in place throughout a construction stage, made it possible for Walsh to significantly reduce costs. HNTB's delta-girder design approach also was a clear winner with Cleveland residents during the proposal phase, honoring the history of steel bridges in the region while incorporating modern design elements and safety features.
No. 8: Amelia Earhart Bridge – For the past 74 years, a beloved steel bridge has been carrying traffic over the Missouri River on U.S. Highway 59 between Winthrop, Mo, and Atchison, Kan. On Dec. 4, a modern new bridge will replace that historic structure. The $59 million steel structure is about 2,500 feet long, including a 527-foot steel tied-arch main span. The network tied arch design provides added safety, redundancy and reduced cost compared to a traditional tied arch, while it will handle twice the capacity of the bridge it's replacing. A number of challenges were overcome, including working around the adjacent existing bridge and a railroad bridge that's just upstream, and responding to two major floods that stopped construction and delayed completion by several months.
Since 2000, Roads & Bridges' annual Top 10 Bridge awards recognize the top projects in North America. Nominations are submitted to the editorial staff, which determines the Top 10 list based on projects' challenges, impact to their region, and scope of work.
With nearly 100 years of bridge design history, HNTB is a leader in long-span, moveable and complex bridges. The firm consistently delivers cost-effective, unique design solutions for its clients with an eye toward incorporating the latest advances in technology and sustainability.
HNTB Corporation is an employee-owned infrastructure firm serving public and private owners and contractors. With nearly a century of service, HNTB understands the life cycle of infrastructure and solves clients' most complex technical, financial and operational challenges. Professionals nationwide deliver a full range of infrastructure-related services, including award-winning planning, design, program delivery and construction management. For more information, visit http://www.hntb.com.